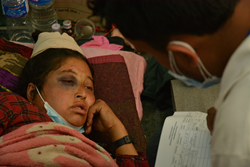 ...each individual needs to be case-managed as quickly as possible...
Takoma Park, MD (PRWEB) April 28, 2015
The number of people injured by Saturday's 7.8 magnitude earthquake and subsequent aftershocks in Nepal continues to rise. Authorities have tallied 6,500 injuries, a figure that could increase to 50,000 as a clearer picture emerges from the hard-hit, remote areas located close to the earthquake's epicenter.
Earthquake injuries can include severe fractures and crushed limbs. If not properly cared for, these injuries can lead to further complications, like gangrene or poor bone alignment. The injured need immediate treatment and rehabilitation care, such as physical therapy, to prevent the injuries from worsening, and to reduce the risk of developing subsequent, long-term disabilities.
As a result of years of planning and preparation for such an event in Nepal, Handicap International was able to quickly provide support to hospitals. An emergency team arrived Tuesday to bolster the local office's 50 existing staff. A second team will depart for Nepal tonight. The organization is also sending equipment to the region, including orthotic braces, rehabilitation kits, and tents. Teams will travel to areas close to the epicenter of the earthquake, which have few health centers. There, they will deploy mobile teams to identify the most vulnerable people in need of care.
Staff began distributing equipment to two hospitals in Kathmandu on Saturday, and are providing emergency rehabilitation care to the injured. The teams will identify and register the injured, taking note of their contact details and types of injuries, and will refer them to existing rehabilitation centers. These teams will also identify all additional services available for individuals. In addition to emergency relief, patients need continual follow-up.
"When a lot of people have been injured in an earthquake, each individual needs to be case-managed as quickly as possible, and provided with follow-up care once they leave the hospital," says Hélène Robin, the head of Handicap International's emergency response for Nepal. "Our experience in natural disasters, particularly in Haiti after the earthquake in 2010, has taught us that it's important to stay in touch with the injured after they return home, and to continue providing them with care so that they don't develop permanent disabilities."
In the days ahead, Handicap International will also provide psychosocial support to people traumatized by the disaster, clear roads to supply relief to victims, and set up a logistics base to transport humanitarian aid.
Hundreds of American donors have turned to Handicap International since Saturday's disaster. Indeed, Jeff Meer, Executive Director of Handicap International U.S., says that the emergency has prompted the U.S. office's largest-ever online fundraising response. "Americans are ensuring that our teams can respond to the most pressing cases, wherever they happen to be," he says. "We're grateful. Their generosity, beginning on Saturday and continuing this week, has delivered hope to the people recovering in Nepal, and indeed to our hard-working field staff. They help us to ensure that no one is excluded from this response, especially people with disabilities."
Handicap International has launched a fundraising appeal in aid of the victims of the earthquake in Nepal. Readers can contribute to relief efforts by making a credit card donation http://bit.ly/HINepal or a gift via PayPal http://bit.ly/1E6Br8r
About Handicap International
Handicap International is an independent, international aid organization. It has been working in situations of poverty and exclusion, conflict and disaster for 33 years. The organization has worked in Nepal since 2000. Working alongside persons with disabilities and other vulnerable groups, our action and testimony are focused on responding to their essential needs, improving their living conditions, and promoting respect for their dignity and basic rights. Since its founding, Handicap International has set up development programs in more than 60 countries and intervenes in numerous emergency situations. The network of eight national associations (Belgium, Canada, France, Germany, Luxembourg, Switzerland, the United Kingdom and the United States) works constantly to mobilize resources, jointly manage projects and to increase the impact of the organization's principles and actions. Handicap International is one of six founding organizations of the International Campaign to Ban Landmines (ICBL), which received the 1997 Nobel Peace Prize; and is the winner of the 2011 Conrad N. Hilton Humanitarian Prize. Handicap International takes action and campaigns in places where "standing tall" is no easy task.