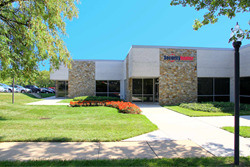 It has been a wonderful experience designing and building this new space.
Baltimore, MD (PRWEB) April 30, 2015
As Securityhunter continues to grow, it has expanded its facilities to include the office space adjacent to its current location in suburban Baltimore. The new space, which is currently being developed, comprises 4,400 square feet of office space and 1,700 square feet of warehouse space. The opportunity to expand into the adjoining office building coincides with the hiring of additional employees to manage and to facilitate new projects. A key feature of the new office will be a beautiful and larger conference room which will accommodate the increase in staff members, and which will be used for meetings and for training groups. In addition to more enclosed offices, the new facility also includes soft-wall office space, an additional kitchen and a spacious warehouse.
Securityhunter is ecstatic that it was able to acquire this office space adjacent to its current office so that it can continue to grow its staff in one primary location. The new office facility is being designed and developed in-house by the talented staff of Securityhunter, and like the current Securityhunter facility, includes a beautiful fieldstone façade just inside the entryway to the office suite. Konstantin Koval, the lead of the renovation project, says "It has been a wonderful experience designing and building this new space."
Securityhunter specializes in providing a full range of electronic security integration measures as well as Homeland Security Presidential Directive-12 (HSPD-12) compliant Identity Management Solutions.
About Securityhunter, Inc.:
Founded in 1988, Securityhunter targets security solutions which support a wide range of government security initiatives. Securityhunter designs, installs and maintains electronic and information security countermeasure systems for government facilities. Securityhunter offers professional security support services, and assists U.S. federal, state and local agencies with assessments and management of security tasks for mission critical CONUS and OCONUS operations.