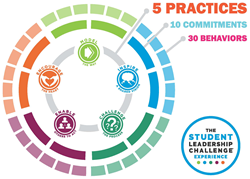 The Student Leadership Challenge Experience was developed to bring a leadership experience that's fun, entertaining and full of information with lasting results to universities
Hoboken, N.J. (PRWEB) April 29, 2015
John Wiley & Sons Inc. today announces a partnership with Collegiate Empowerment®, a 501c3 nonprofit education production company committed to the mission of Helping College Students Get What They Want and Need, to bring The Student Leadership Challenge Experience to universities nationwide.
The Student Leadership Challenge Experience takes the time-tested content of The Five Practices of Exemplary Leadership® and combines it with the high-energy, engaging and relevant teaching style of Collegiate Empowerment to deliver unique leadership seminars directly to students on college campuses. The Student Leadership Challenge Experience teaches that leadership development is essential for personal development and the first step to helping students clarify a bigger vision for themselves and the impact they will make in the world.
"The Student Leadership Challenge Experience was developed to bring a leadership experience that's fun, entertaining and full of information with lasting results to universities," said Tony D'Angelo, Founder and Producer of Collegiate Empowerment. "By combining The Five Practices outlined in Jim Kouzes and Barry Posner's The Student Leadership Challenge with the Collegiate Empowerment approach, we're able to meet students where they're at and guide them through a meaningful conversation that illuminates their own personal best leadership experience as well as insights into the bigger questions of who they are and what impact they will make."
The Student Leadership Challenge Experience approach has four steps: information, association, inspiration and application. Each step builds on the last to take participants deeper into The Five Practices of Exemplary Leadership to see how the practices turn up in students' daily lives. It creates a shared leadership language among student clubs and organizations, residence halls and student cohorts so young leaders can talk about leadership issues and run their organizations, groups and teams in a way that fosters collaboration and sustainability throughout the academic year.
Two schools have completed The Student Leadership Challenge Experience with Collegiate Empowerment with great success: Lycoming College in Williamsport, PA and Arizona State University. The program is now being expanded and will be utilized by 25 universities in 2015.
"The Student Leadership Challenge Experience has proven to inspire our students to seize opportunities and take the initiative to make a difference," said Lawrence Mannolini III, Director of Student Programs and Leadership Development at Lycoming College. "We find the content of this program is an invaluable asset for the goals our students have following their collegiate experience. It is a program we trust and one that the students find relatable."
The Student Leadership Challenge Experience is now available for leadership seminars, retreats and conferences nationwide. For more information about The Student Leadership Challenge Experience or to book your next campus leadership event, contact Collegiate Empowerment at info(AT)collegiate-empowerment.org or call 877-338-8246. For media inquiries, contact Robyn Gretzinger at 317-572-3196 or robyn.gretzinger(AT)wiley.com.
About Wiley
Wiley is a global provider of knowledge and knowledge-enabled services that improve outcomes in areas of research, professional practice and education. Through the Research segment, the Company provides digital and print scientific, technical, medical, and scholarly journals, reference works, books, database services, and advertising. The Professional Development segment provides digital and print books, online assessment and training services, and test prep and certification. In Education, Wiley provides education solutions including online program management services for higher education institutions and course management tools for instructors and students, as well as print and digital content.
About The Leadership Challenge®
The Leadership Challenge, a Wiley brand, is a global campaign to liberate the leader in everyone. Approaching leadership as a measurable, learnable, and teachable set of behaviors, The Leadership Challenge framework grew out of rigorous research that first began in 1982 when Jim Kouzes and Barry Posner set out to understand those times when leaders performed at their personal best. They conducted hundreds of interviews and reviewed hundreds of cases studies and survey questionnaires. What emerged were five fundamental practices common to extraordinary leadership achievements. The Five Practices of Exemplary Leadership—Model the Way, Inspire a Shared Vision, Challenge the Process, Enable Other to Act, and Encourage the Heart—are now known worldwide as the most practical model for leadership development.
Three decades later, The Five Practices of Exemplary Leadership model continues to prove its effectiveness as a clear, evidence-based path to achieving the extraordinary—for individuals, teams, organizations, and communities. It turns the abstract concept of leadership into easy-to-grasp practices and behaviors that can be taught and learned by anyone—at any level, in any organization—who chooses to step up and accept the challenge to lead. As measured and validated by the Leadership Practices Inventory® and the Student Leadership Practices Inventory®—two of the most widely used leadership assessment instruments in the world—ongoing studies consistently confirm that The Five Practices and our assessment tools are positively related to both the effectiveness of leaders and the level of commitment, engagement, and satisfaction of those who follow them. The Leadership Challenge and The Student Leadership Challenge books by Jim Kouzes and Barry Posner have sold over three million copies worldwide.
About Collegiate Empowerment®
Collegiate Empowerment is home to a series of national best-selling seminars perfect for student leadership development, part of their 120+ hour curriculum of What Every College Student Needs To Know®. Since 1995, the organization has empowered over 1.8 million students and 35,000 professionals from 2,800 campuses. All of their productions are designed, customized, and facilitated by their high-energy, relatable, and ever-growing team of facilitators. Collegiate Empowerment is here to make educators' jobs easier and to help them look like heroes (to supervisors and students).