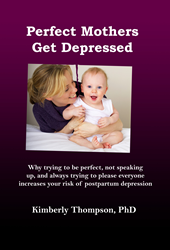 When our lives as new mothers fail to meet the expectations we adopted beforehand, how do we cope?
Amarillo, Texas (PRWEB) May 13, 2015
Praeclarus Press is committed to producing materials dedicated to "Excellence in Women's Health," and is proud to announce the release of Perfect Mothers Get Depressed: Why trying to be perfect, not speaking up, and always trying to please everyone increases your risk of postpartum depression, by Kimberly Thompson, PhD. It is recognized in the United States that roughly 10-15% of mothers are affected by postpartum depression. As such is critical to create awareness and offer support for all who suffer. Mothers today are born into a culture laden with expectations for them. The expectations are not coupled with adequate support systems, leaving women struggling and carrying the burden of feeling as if they have failed in some ways. There is help however and a growing list of resources for women and their healthcare providers.
What happens when a mother tries to do everything right and is afraid to let others know her feelings? How do women cope when they are surrounded by others who are unsupportive? Quite simply, the risk for postpartum depression increases. Perfect Mothers Get Depressed discusses some of the common beliefs mothers have that may seem harmless enough on the surface, but can lead to depression. Based on the author's research, the book, describes the dilemma mothers face and give mothers specific things they can do to recover.
This Mental Health Month, please consider these other titles of interest which are currently available: A Breastfeeding-Friendly Approach to Postpartum Depression by Kathleen Kendall-Tackett, PhD, IBCLC, FAPA, A Mother's Climb Out of Darkness by Jennifer Hentz Moyer, Transformed by Postpartum Depression by Walker Karraa, and Act It Out by Stefanie Auerbach Stolinsky. PhD. Save 15% on entire purchase in the Praeclarus Press online store from May 10-15, simply enter code PPMD2015 upon checkout.
Kimberly Thompson, PhD, is a clinical psychologist in private practice in Texas who has published professional research on postpartum depression. Dr. Thompson routinely provides psychotherapy services to help new mothers cope with their experiences of anxiety and depression
Praeclarus Press is a small press that specializes in women's health founded by health psychologist Kathleen Kendall-Tackett, PhD, IBCLC, FAPA. It features books, webinars, and products that support women's health throughout their lifespan. Based in Amarillo, Texas, the mission of Praeclarus Press is to produce materials that change women's lives.