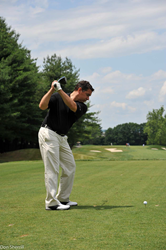 For over 30 years, Eva's Village has provided a continuum of care and changed the lives of many in need and the Keller family is honored to continue their support in memory of my brother, L. Robert Keller
Paterson, New Jersey (PRWEB) April 29, 2015
Eva's Village (http://www.EvasVillage.org), a non-profit, comprehensive, social service agency in Paterson, New Jersey with a four-part mission to feed the hungry, shelter the homeless, treat the addicted and provide medical care to the poor, announces The L. Robert Keller Memorial Invitational Golf Tournament. This charitable function will be held on Monday June 22, 2015 at Canoe Brook Country Club in Short Hills, NJ. Proceeds from the tournament will benefit Eva's feeding, sheltering and rehabilitation programs for men, women and women with children. The L. Robert Keller Memorial Invitational Golf Tournament is chaired by D. Peter Keller (Chatham), Owner of The Madison Hotel, and a member of Eva's board. "For over 30 years, Eva's Village has provided a continuum of care and changed the lives of many in need and the Keller family is honored to continue their support in memory of my brother, L. Robert Keller," commented D. Peter Keller.
The L. Robert Keller Memorial Invitational Golf Tournament is a major funding source for Eva's Village. Over 200 golfers have registered but there are still openings available, and hole sponsorships and donations are welcome. The tournament day will commence with registration at 9:00 am and a Shotgun start at 11:30 a.m. For more information, please contact Joe Mazza at 973.523.6220 ext. 235 or via email at Joey.Mazza(at)evasvillage(dot)org.
Founded by Msgr. Vincent E. Puma in 1982 as a response to the poor and homeless in Paterson, NJ, Eva's Village is a non-profit comprehensive social service organization. Through more than three decades of service, Eva's Village has established a unique record in facing community challenges and changing the lives of the hungry, homeless and addicted. It has grown from a simple soup kitchen to become the most respected anti-poverty program in New Jersey. It now includes fourteen integrated programs housed in numerous buildings spanning several city blocks in downtown Paterson. Donors will be pleased to know that Eva's Village holds four consecutive 4-star rating from Charity Navigator, an independent non-profit monitor (http://www.charitynavigator.org/). Only 7% of the charities rated by Charity Navigator have received at least 4 consecutive 4-star evaluations, indicating that Eva's Village outperforms most other charities in America. This "exceptional" designation from Charity Navigator differentiates Eva's Village from its peers and demonstrates to the public it is worthy of their trust.