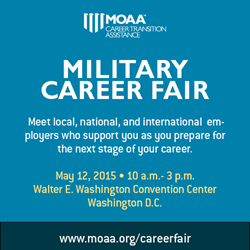 Alexandria, Va. (PRWEB) April 29, 2015
The Military Officers Association of America (MOAA) will host a military career fair Tuesday, May 12 at the Walter E. Washington Convention Center (Ballroom), from 10 a.m. – 3 p.m. (pre-career fair seminars begin at 8:30 a.m.) for all officers, enlisted, active duty, retired, former and National Guard/Reserve servicemembers and their spouses and government employees.
Job seekers have the opportunity to meet local, national and international employers including Lockheed Martin, Amazon, JPMorgan Chase &Co, National Security Agency, Shafer Corporation, Department of Veteran Affairs and many more.
The conference will feature several career-planning seminars to help military personnel tackle the challenge of transitioning to work life after the military. Seminar topics include:

Pre-Career Fair Webinar "How to Work a Career Fair": MOAA will be offering a free webinar on Thursday, April 30 from 2 to 3 p.m. EDST. Gain some valuable insight in the career transition process from three experts in the field. To register, select the webinar option on the career fair registration form at http://www.moaa.org/careerfair.
Network Your Way to Employment: This 55-minute seminar begins at 8:30 a.m. before the official start of the career fair and offers quick tips on how to stand out among the crowd.
Getting the Most from Your MOAA Membership: Beginning at 9:30 a.m., learn more about MOAA and the benefits of membership. Presented by MOAA's Member Service Center
Federal Job Application Preparation: This 90-minute seminar will help interested military members learn how to apply for a federal job and market themselves for government sector employment. Presented at 11 a.m. and at 2 p.m.
LinkedIn Best Practices: LinkedIn is revolutionizing the process of networking, connecting with recruiters and preparing for job interviews. Moreover, it offers a public resume showcasing experience, passion, skills and education to potential employers, clients and business partners. The workshop will address strengthening attendees' public profile and maximizing the use of key words, plus recommendations for job search, people search and company search strategies using LinkedIn. Presented at 11 a.m. and at 2 p.m.
Be Your Own Boss! Exploring Entrepreneurship Panel: A panel of successful veteran business owners and resource specialists will share their experience with entrepreneurship in a 90-minute discussion. Presented at 12 p.m.
MOAA is known as a leader in military-to-civilian career transition and has been helping military personnel obtain second careers for more than 60 years. View career fair agenda and details.
MOAA is also hosting a pre-career fair networking event on Tuesday, May 5 from 6 p.m. to 8 p.m. at the Ritz Carlton at Pentagon City, 1250 South Hayes St., Arlington, VA. A pre-networking event seminar, "Dress for Success" will begin at 5:15 p.m. Meet with employers and other MOAA members who have successfully made their transitions. Please register online at http://www.moaa.org/careerfair. The event is open to all.
-End-
About MOAA:
Military Officers Association of America (MOAA) is the nation's largest officers association with more than 380,000 members from every branch of service, including active duty, retired, National Guard, Reserve, and former officers and their families and survivors. MOAA is a nonprofit and politically nonpartisan organization and an influential force in promoting a strong national defense. MOAA represents the interests of service members and their families in every stage of their lives and careers, and for those who are not eligible to join MOAA, Voices for America's Troops is a nonprofit MOAA affiliate that supports a strong national defense. For more information, visit http://www.moaa.org or http://www.voicesfortroops.org/.
Members of the news media who wish to be added to our media distribution list for MOAA news releases, please contact requestnews(at)moaa(dot)org. Visit MOAA's Multimedia & Press Room at http://www.moaa.org/media/default.htm.