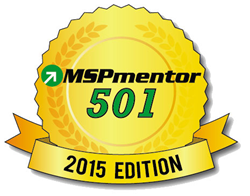 Irvine, CA (PRWEB) April 29, 2015
Irvine-based Synoptek was named the number two managed services provider (MSP) in the State of California. Synoptek is a fast-growing IT managed services and cloud solutions company, engaging in three acquisitions within the past year alone and ranking among the top cloud services providers overall. Synoptek is currently serving clients worldwide from 17 US locations and three EU locations.
Synoptek's rise to the #2 managed services provider in California comes in the wake of growth through steady organic growth and strategic acquisitions. "Synoptek is positioned to offer the finest service levels in the industry. Many IT services companies struggle to cover 24x7 support or provide high touch services across a wide array of technologies. We are large enough to provide breadth and depth of skills but small enough to deliver customer-centric services," said Tim Britt, Synoptek CEO.
Today's announcement demonstrates Synoptek's consistent performance in a competitive managed IT services industry. MSPmentor also ranked US-based Synoptek at number 15 of all global information technology managed services providers (previously ranked number 20).
With today's continuing demand for high function, high performing, and no-fail secure IT solutions, Synoptek has strategically positioned themselves as a leader in the market. "Synoptek has maintained a steady expansion rate to meet with marketplace demands as technology advances and businesses strive to keep up," said Britt. "It is the perfect time for business growth, and Synoptek is well positioned to handle the ongoing upsurge in business demand for ultimate IT managed services and cloud solutions."
About Synoptek
Synoptek provides information technology (IT) management services and support to organizations worldwide. In the past five years, Synoptek has been recognized for thought leadership and growth as shown by their awards and recognition ("World's Top 20 Managed Services Provider"–MSP Mentor, 2014). Synoptek delivers consulting, IT management services and cloud services to companies that require enterprise-caliber IT infrastructure for critical business operations. Synoptek leverages professional processes, customer oriented IT architecture, and operational excellence to deliver uninterrupted services demanded by today's market. Synoptek provides both secure cloud IT solutions and on-premise IT management. By leveraging Synoptek's solutions, customers receive predictable service levels, security, scalability and a global delivery partner to support their critical IT operations.
Contact: http://www.synoptek.com