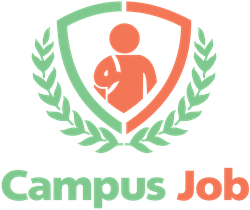 New York, NY (PRWEB) April 30, 2015
Campus Job (http://www.campusjob.com), the largest online marketplace for college students to find part-time jobs and internships, today announced the close of a $7.8 million dollar Series A funding round led by General Catalyst. New funding participants include Index Ventures, SV Angel, Slow Ventures, and others. Existing investors including BoxGroup and Lerer Hippeau Ventures also participated in the round. As part of the funding, Adam Valkin, Managing Director at General Catalyst, will be joining Campus Job's board. This announcement brings Campus Job's total funding to $9.1 million to date.
Campus Job launched in September 2014 and has grown rapidly since, adding up to 10,000 new students registering each week, and processing more than 12,000 job applications each month. Since September, Campus Job has amassed a network of more than 125,000 students from over 2,200 universities. Starting this week, graduating Seniors will also be able to take advantage of Campus Job's unique approach to job placement to secure their first full-time role.
Campus Job was originally created by co-founders Liz Wessel and JJ Fliegelman with the hope of democratizing the hiring process for employers and students alike. More than 20% of students with an account on Campus Job have already been hired for a job they found (and applied for) through Campus Job.
With job listings from a range of companies including Fortune 500s, government organizations, and startups, Campus Job's unique approach directly matches students with best-fit companies, cutting approximation and nepotism out of the recruiting equation. This also allows for smaller businesses and startups to have an equal shot at recruitment as the larger players in on-campus recruitment.
Students input their qualifications into a simple form, and then only see jobs for which they're qualified to apply. Campus Job generates revenue every time a qualified student applies to a job that an employer posts. When the target number of applicants has been reached, the job is taken down from the site. This saves time for students and businesses alike: the median amount of time it takes to receive a desired number of applicants through Campus Job is only two days, with many jobs being 'filled' for applicants in a matter of minutes.
The new funding will be used to grow Campus Job's team, with a particular focus on engineering and sales.
"Campus Job was launched with the hope of giving students a place to go where their skills, not just their personal connections, get them hired. We also believe Campus Job is giving startups like us the ability to compete for recruitment with the larger players, many of whom also use our platform," says co-founder and CEO Liz Wessel. "We expect this investment to enable us to find many more great job opportunities for students, and further develop our matching tools to help even more students."
"Liz and JJ have created a two-sided marketplace with the potential to impact our economy in a fundamental way," said Adam Valkin from General Catalyst. "They have created tools and liquidity for both students and employers that add simplicity, reduce friction, increase choice and lead to better matches in the world of college recruitment. We are thrilled to partner with the Campus Job team on this important mission."
"Coming to a really expensive private university, I needed a substantial way to help pay for my tuition. Using Campus Job, I was able to find 3 part-time paid internships during my freshman year, as well as a summer internship," says New York University first-year student and Campus Job user Eric Hu. "Since joining the site in October, I've gained experience in customer support, digital media, how to run a marketing campaign, and sales optimization; skills I consider a crucial element of my education."
For more information, please visit http://www.campusjob.com
###
About Campus Job
Campus Job is a two-way marketplace designed to help college students find vetted, part-time jobs during the school year as well as internships during the summer.
Designed to be student-first, the company generates revenue from businesses seeking applicants, but only charges them for candidates they are actually interested in. Built by alumni of Google and McKinsey, Campus Job is the best way for students to find the right opportunity, whether they are looking for a resume booster or just a chance to earn some extra cash.