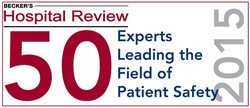 Individuals included on the list consist of advocates, professors, researchers, administrators and healthcare providers who have won awards, published articles, spoken out and led initiatives to reduce harm and ensure safety.
Chicago, IL (PRWEB) April 29, 2015
The Becker's Hospital Review editorial team considered nominations and selected leaders through an editorial review process. The list of "50 Experts Leading the Field of Patient Safety" includes the following leaders:
James Bagian, MD
David J. Ballard, MD, PhD
David Westfall Bates, MD
David Louis Battinelli, MD
Don Berwick, MD
Leah F. Binder
David Birnbach, MD
John Bulger, DO
Maureen Bisognano, RN
Pascale Carayon, PhD
Christine Cassel, MD
MaryAnn Chanes, RN
Mark R. Chassin, MD
Michael Cohen
Patrick Conway, MD
Katrina Crist
Jacqueline Daley
Krishna Das, MD
Louise-Marie Dembry, MD
Cynthia Deyling, MD
Sir Liam Donaldson
Samuel Flanders, MD
Tom Frieden, MD
Karen Frush, MD
Tejal K. Gandhi, MD
Atul Gawande, MD, PhD
Mark Graber, MD
Linda Groah, RN, MSN, CNOR, CNAA, FAAN
Anthony Harris, MD
Helen Haskell
Brent James, MD
Joe Kiani
Clifford Y. Ko, MD, FACS
Richard Kronick, PhD
Lucian Leape, MD
Jeffrey C. Lerner, PhD
Mary Lou Manning, PhD
James Merlino, MD
Elizabeth A. Mort, MD
Brigitta Mueller, MD
Margaret E. O'Kane
Peter Pronovost MD, PhD
Gina Pugliese, RN
Kenneth Sands, MD
Pranavi Sreeramoju, MD
Kaveh G. Shojania, MD
Joan Silver, RN
Robert K. Stoelting, MD
Robert M. Watcher, MD
Gail Warden
The full list can be read here.
Note: Leaders did not and cannot pay to be included on the list. Individuals are presented in alphabetical order.
About Becker's Hospital Review
Becker's Hospital Review is a monthly publication offering up-to-date business and legal news and analysis relating to hospitals and health systems. Content is geared toward high-level hospital leaders, and we work to provide valuable content, including hospital and health system news, best practices and legal guidance specifically for these decision-makers. Each issue of Becker's Hospital Review reaches more than 18,000 people, primarily acute-care hospital CEOs, CFOs and CIOs.