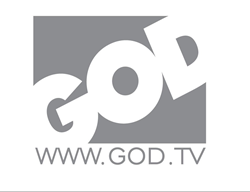 "It's wonderful to be able to bring our viewers authentic ministry from incredible speakers at so many Christian events."Wendy Alec
Plymouth. Devon (PRWEB UK) 29 April 2015
MISSION POSSIBLE - 13-17 MAY 2015
In the second week of May GOD TV will once again broadcast Mission Possible daily from the Netherlands with popular ministry leaders, Loren Cunningham, Heidi Baker, Lou Engle and Bill Johnson. Hosted by Mattheus van der Steen of Touch, Reach and Impact the Nations (TRIN), Mission Possible seeks to equip believers to be more effective in sharing their faith around the world, especially in those nations still opening up to Christianity. The broadcasts from Nijkerk, in the heart of Holland, will also feature Dutch evangelist Andrew van der Bijl, known as Brother Andrew, who is famous for smuggling Bibles into communist countries during the Cold War.
JERUSALEM 2015 - 20-24 MAY 2015
In the third week of May, GOD TV will broadcast eight sessions from Jerusalem 2015, hosted by Empowered21. This global congress will span five days with believers gathering at the Payis Arena, the city's new 15,000-seater venue, to hear from over 100 world-renowned speakers. Co-chaired by Billy Wilson and George Wood, the congress will feature speakers from many countries, including Jack Hayford, Morris Cerullo, Marilyn Hickey, Jentezen Franklin, Cindy Jacobs, Phil Pringle, Christine Caine and many others. Bishop John Francis and worship leader Noel Robinson will represent the UK.
The LIVE broadcasts will include the Bethlehem Celebration of Peace, an outdoor event at Manger Square, where Jesus is said to have been born. This takes place on Friday 22 May with Reinhard Bonnke and Daniel Kolenda. The Holy Spirit Unity Celebration will be aired from the River Jordan on Saturday 23 May and the Pentecost Global Day of Prayer will air on 24 May with Robert Stearns and others at King of Kings Community, Jerusalem. Jerusalem 2015 culminates later that evening with a commissioning service at the arena, themed "To The Ends Of The Earth In Our Generation."
Over the past decade GOD TV has become known for its LIVE transmission of Christian events. May 2015 is a particularly full month of LIVE broadcasts for the global network, also featuring the US National Day of Prayer on 7 May and An Evening With Wendy Alec on 10 May with Annie Chikhwaza, who will be speaking about her missions outreach in Malawi.
"LIVE broadcasts are a huge priority on our schedule" said Wendy Alec who heads up GOD TV. "It's wonderful to be able to bring our viewers authentic ministry from incredible speakers at so many Christian events."
GOD TV is available in the UK on SKY (580), Freesat (694) and Virgin (279). Also online via smartphone (GOD TV App); PC (god.tv); or TV screen, (Roku).
About GOD TV: GOD TV took to the airwaves in the UK in 1995 and now transmits from Jerusalem to a global reach of some 900 million people. The network's worldwide broadcast license is held by Angel Christian Television Trust Inc, a US not-for-profit corporation. GOD TV is owned by several Angel Charities internationally, which in addition to the network's media outreach, assist people in the developing world. GOD TV adheres to the UK Evangelical Alliance Basis of Faith. Its signal is broadcast Free To Air (FTA) and is accessible to all.
Contact: GOD TV's UK & Ireland Regional Director, Fergus Scarfe at fscarfe@god.tv
GOD TV Broadcast HQ: Jerusalem, Israel. International offices: USA (Orlando, Florida; Kansas City, Missouri) UK & Ireland (Plymouth, England), Europe (Hamburg, Germany), Asia & Middle East (Chennai, India; Sri Lanka), Africa (Cape Town, South Africa; Nairobi, Kenya), Australasia (Melbourne, Australia).