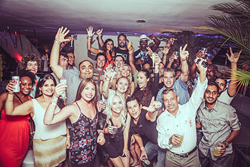 Marcia G, 2015 Client - "We had such an amazing time all the tour guides were super friendly and professional and a lot of fun!! They took us to cool places you wouldn't know if you were travelling on your own. I would use TGW again and again!!"
Miami Beach, FL (PRWEB) April 29, 2015
TGW Travel Group – http://toursgonewild.com – one of the industry leaders in Bucket-List trips all over the world is giving a way an all-expense paid trip for the world famous Rio de Janeiro Carnival in 2016. The trip includes Round Trip Airfare, 5 Nights Hotel Accommodation, Airport Transfers, Half Day Christ Statue Tour, Group "Meet & Greet" Event plus access to two of Rio de Janeiro's hottest carnival parties. The value of this package is over US$2,500. In addition to the free trip, the winner will also be able to invite a friend for only US$999.00. The dates of the trip will be February 4th to February 10, 2016.
"Our Rio Carnival Trip is something people need to experience at least once in their lifetime. We offer something more than just booking a flight and hotel," said Arturo Perchemlian, TGW Travel Group President. "The experience is unique because we take our guests to the upscale Carnival events where locals actually go - NOT tourists plus TGW Staff on location to make sure everything runs smoothly. The winner of this contest will definitely have the time of their life."
The TGW Travel Group Rio de Janeiro Carnival 2016 Giveaway will run from April 23, 2015 until June 12, 2015. Individuals can enter the contest via the TGW Facebook Page or TGW Website. The winner will be randomly selected and announced on June 15, 2015 at 5:00PM E.T.
TGW has been offering trips to Carnival in Brazil since 2004 and in addition to the travel norms like airfare and hotel, the company offers access to the hottest local parties and events for Carnival. TGW also has a local office in Rio for 24-hour customer support in addition to local Portuguese/English speaking guides with the group for all tours and events. The TGW Rio Carnival group consists of a diverse group of between 75 and 100 people from all over the world each year.