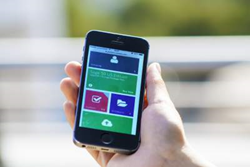 Suntico gives my reps the information they need to serve their customers well
Buford, GA (PRWEB) April 29, 2015
Solving the problem of how to deliver deep but narrow customer information to manufacturers' and wholesalers' reps is fueling interest in Suntico in North America.
"Although originally conceived as a general purpose collaboration tool for companies that use Sage 50, nearly all our users are from manufacturers and wholesalers with a mix of in-house and external reps". says Silvia Alegría, Head of Marketing at Suntico. "Our customers want to deliver information into the hands of their reps to support valuable face-to-face contact. That is exactly what Suntico provides".
For a company with external reps, Suntico solves the problem of delivering rich information about the customers the rep serves, without giving away the company's full customer list. Suntico is also presented in a very familiar Facebook-style interface for busy reps that represent maybe another 10 companies and do not want to spend time learning and using multiple systems.
"Our reps cover all of North America and they need to know their accounts – information like contacts, order history and anecdotal notes. Multiply that requirement by fifty reps and the resources required to serve that information accurately are huge. Suntico gives my reps the information they need to serve their customers well." says Jack Erker III, President of Studio Optyx, a high-end eyewear designer.
Despite the onward march of online business, the use of independent sales reps is not falling according the the US Bureau of Labor Statistics. There are currently more than 1.8 million manufacturers' and wholesalers' reps in the US. Around 50% of US manufacturers use independent sales reps with a higher percentage in smaller manufacturers.
Suntico is designed to connect to popular accounting software, so that up to date information about customer order history and status can be delivered into the hands of the reps through any modern smartphone or tablet.
About Suntico:
Suntico is an online account management system for manufacturers and wholesalers who value face to face customer contact. It includes a Facebook-like interface that is very easy to use and links seamlessly to Sage 50 Accounting US (formerly Peachtree), Sage 50 Accounting Canada (formerly Simply Accounting), Sage 50 Accounts in the UK and Ireland, and Sage One (Ireland and UK).