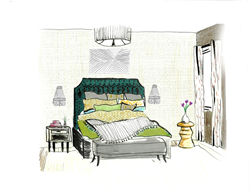 Please support the RMH Stanford with a tax deductible gift and help me create a space that can provide an uplifting experience for the children and their families
San Francisco, CA (PRWEB) April 30, 2015
The Ronald McDonald House at Stanford is undergoing a much-needed expansion, adding 52,000 square feet to increase the number of rooms from 47 to 123. The San Francisco interior design firm Faiella Design has joined the Where Hope Has a Home project, sponsored by the San Francisco Design Center (SFDC), to donate design services for a guest bedroom and bath in the new wing. Community members who want to help seriously ill children and their families are urged to make a tax-deductable donation.
"Please support the RMH Stanford with a tax deductible gift and help me create a space that can provide an uplifting experience for the children and their families," requests Anastasia Faiella, Principal of Faiella Design. "There is nothing more powerful than helping change the lives of children."
Faiella Design has designed a guest room with an en suite bathroom that will be a tranquil retreat for the families to rest their heads and unwind in a warm and comfortable environment. The design inspiration comes from the beautiful Northern California landscape, bringing in elements of the outdoors inside with a blend of lively colors and relaxing textures.
Families come from all over the country to give their critically ill children life-saving treatment at Stanford hospitals, and the Ronald McDonald House at Stanford gives these families a home away from home during treatment. In addition to sleeping areas, families have access to a communal kitchen and dining room, computer lab, library, fitness center, and activity areas for all ages.
The San Francisco Design Center has solicited some of the top San Francisco interior design firms to donate time to the Where Hope Has a Home project, and 60 designers are participating, including Barbara Scavullo, BAMO, Steven Miller, Eugene Nahemow, and Marc Melvin.
"Imagination and creativity can be a powerful force of healing. I am heartened to see Bay Area designers, manufacturers, and SFDC showrooms contributing their time, talent, and resources to create a home-away-from-home for critically ill children and their families," says Rhonda Hirata, VP of Marketing for SFDC.
The demand for Ronald McDonald House at Stanford is so high that 40 to 50 families are turned away every day. This desperately needed expansion will make the Stanford location the largest Ronald McDonald House in the world. The welcoming spaces created by Faiella Design and other designers will give families comfort during the hardest times in their lives.
"Your donations will help us create a safe, nurturing space where families can return after long hospital visits to rest and recover," explains Anastasia. "Please help us ease the pain of these families by giving them a home away from home."
To make a tax-deductible donation in any amount, please visit http://bit.ly/1ySGwMT.
To learn more about Faiella Design, visit http://www.faiella-design.com/.
About Faiella Design
Faiella Design is a boutique San Francisco interior design firm that specializes in residential spaces, small and large. We tailor your living environment to reflect your personality, lifestyle, and aspirations.
Anastasia Faiella has been collaborating closely with clients to create a space to love and live in since 2008. She has extensive experience guiding architects and contractors to successfully implement design concepts. She has a rich creative and artistic background as a painter and fine artist, and she spent ten years working with high-end wholesale furnishings at the San Francisco Design Center.
Anastasia's background in fine arts and wholesale furnishings, combined with her hands-on experience with architects and contractors, ensures a smooth transition from design schemes into reality. This unique skill set allows Anastasia to offer clients an artistic yet accessible vision.