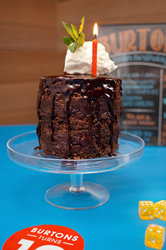 "We strongly believe in promoting from within. It's a huge part of our culture, and our success is directly related to coaching and teaching at every level of our team."
Andover, MA (PRWEB) April 29, 2015
Burtons Grill, a 10-unit restaurant group based in Andover, MA, will celebrate its 10 year anniversary with 10 days of exciting in-house events with vouchers, loyalty prizes and fun! Burtons Grill restaurants are located in Hingham, MA, North Andover, MA, South Windsor, CT, Virginia Beach, VA, Peabody, MA, Nashua, NH, Burlington, MA, Westford, MA, Charlottesville, VA and Mount Pleasant, SC. The celebration goes from May 1-10, 2015.
The Hingham restaurant opened its doors in March 2005 and it hasn't slowed down since. The guests are so very loyal and Hingham still has many team members that have been with the restaurant since its inception. As the years have passed, Burtons has grown into a 10 unit restaurant group, opening five restaurants north of the city and in New Hampshire, one in Connecticut and three in the South and more restaurants are in the works. Last year the company started a new concept Red Heat Tavern which currently has a location in Wilmington, MA and will be opening this fall in Bedford, MA.
While consistency and quality are directly related to the success thus far of Burtons Grill, there is another very important piece of the puzzle: THE PEOPLE. Burtons Grill is committed to hiring great people who are true examples of what hospitality can be. Coaching and teaching is a philosophy that VP of Operations and the original Executive Chef Denise Baron Herrera believes is the most important aspect of the organization. "We strongly believe in promoting from within. It's a huge part of our culture, and our success is directly related to coaching and teaching at every level of our team."
To celebrate, Burtons will be featuring some great incentive promotions throughout the 10 day celebration. Every table will have the opportunity to roll the dice to receive an instant prize or giveaways. With the new Spring and Summer menu, Burtons will be offering great incentives to come in and enjoy the new items including flash sales and sampling events. The new menu includes many new gluten sensitive and vegetarian options. In addition to that, all restaurants will be celebrating their long standing employees who have been with the company since its inception. Homemade chocolate "birthday" cakes will be served May 8 and 9 while supplies last, and all locations will be celebrating with fun social media contests.