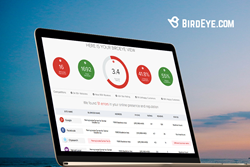 Most businesses do not know how they appear online.
Sunnyvale, CA (PRWEB) April 29, 2015
BirdEye, a leader in Reputation Marketing, launched today Scan Your Business, a free app for businesses to quickly assess their online presence and business reputation on 50+ sites. A business owner simply enters the business name and zip code, and the app generates a detailed report of their online presence and reputation.
The Scan Your Business app is a useful tool for any business to check its snapshot across 50+ sites — Is the business listed on the main sites? Is the business information (NAP or business name, address, phone number) accurate on all sites? Is the business rated well (customer reviews and ratings)? The report can be instantly downloaded and emailed.
Scan Your Business app helps businesses in these ways:

Businesses see at-a-glance their online presence and reputation across the Internet — Average Rating; Total Reviews; Websites Found On; Percent of Happy vs. Unhappy Customers
Businesses see how they appear on each of the 50+ consumer sites, including prominent industry sites. Businesses can uncover inconsistencies and inaccuracies in their business listings (e.g., name, address, phone number) that create confusion for customers
Businesses see their reviews and ratings on each of these sites to know how they stack up vs. their competitors
Businesses get a sampling of recent online reviews for a real-time finger on the customer pulse
"The proliferation of 100s of consumer sites has led to fragmentation of business information across these sites, making it next to impossible for businesses to manage. It's not surprising, then, that most businesses do not know how they appear online," said Naveen Gupta, CEO of BirdEye. "We wanted to make this basic, yet critical information available to all businesses at no charge. At that point, it's up to the business to decide how they want to manage their presence and reputation — do-it-yourself or engage a vendor like BirdEye."
Availability
Scan Your Business app is available at http://birdeye.com/scan-business/. The BirdEye Business Reputation Marketing platform can be previewed at http://birdeye.com.
About BirdEye
BirdEye (birdeye.com) is a leader in Business Reputation Marketing (BRM). The BirdEye platform helps businesses get more word-of-mouth referrals, leads, and repeat customers. With BirdEye, businesses monitor reviews from all major sites, gain new authentic reviews, manage customer feedback, and automatically promote their good reputation across the web, social media and search engines. Enterprises use BirdEye analytics and competitive insights gleaned from customer feedback to fine-tune products or services to breakout from the pack.
The BirdEye platform powers 500K businesses and 10M+ reviews. Based in Sunnyvale, CA, BirdEye was founded by alumni from Yahoo, Google, Amazon and Cisco.