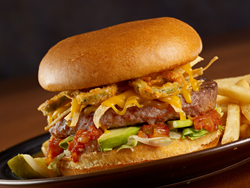 Tony Roma's is a place to celebrate with family and friends, and we're excited to share these special dishes with our guests so they can enjoy Cinco de Mayo with us in a fun, new way
Orlando, Fla (PRWEB) April 29, 2015
Tony Roma's is celebrating Cinco de Mayo in a fun way with two new menu items blending American favorites with a fiesta of flavors from south of the border. These limited time dishes – the Nacho Burger and Tony Roma's Original Baby Back Ribs smothered in a new Tequila BBQ Sauce – will be offered at participating restaurants May 1-5.
"Tony Roma's is a place to celebrate with family and friends, and we're excited to share these special dishes with our guests so they can enjoy Cinco de Mayo with us in a fun, new way," said Jim Rogers, Chief Marketing Officer for Romacorp, Inc., the parent company of Tony Roma's. "There's nothing quite like Tony Roma's world-famous Baby Back Ribs, and our new Tequila BBQ sauce will leave fans craving more after they taste it."
American and Mexican cuisine blend harmoniously on the Nacho Burger with house-made salsa, tortilla strips, cheddar cheese, jalapeños and avocado. Guests can also enjoy Tony Roma's world famous Baby Back Ribs lathered with a Tequila BBQ sauce, created especially for this celebration, giving the juicy meat an extra fun and flavorful kick. The ribs are served with a side of French fries and coleslaw.
"Tequila is not just the key ingredient of our new BBQ sauce, it is also what makes our popular Classic Romarita® the perfect refreshment to accompany these mouthwatering party entrées," said Chef Bob Gallagher, Senior Vice President of Purchasing and Culinary for Romacorp, Inc. "A perfect mix of Sauza Gold tequila and Cointreau liqueur set the right tone for five days of Fiesta Mexicana at Tony Roma's."
About Romacorp, Inc.
Romacorp, Inc., is the parent company of Tony Roma's restaurants, the world's largest casual dining concept specializing in ribs. Headquartered in Orlando, Florida, Romacorp, Inc. has more than 150 restaurant locations in more than 30 countries and is one of the most globally recognizable names in the industry. The first Tony Roma's restaurant opened more than 40 years ago in North Miami, Florida.
Romacorp, Inc. also operates their new TR Fire Grill concept, a chef-inspired American bistro in Orlando, Florida with an additional location planned the summer of 2015 in Winter Park, Florida. For more information about Romacorp, Inc. and Tony Roma's, visit http://www.tonyromas.com/. For information about our new TR Fire Grill concept, visit http://www.trfiregrill.com/.