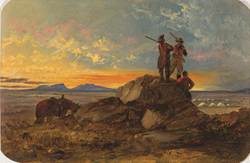 Stanley was viewed as the premier painter of American Indians.
Cody, WY (PRWEB) May 12, 2015
Painter John Mix Stanley traveled thousands of miles crisscrossing the western territories in the mid-1800s, venturing as far as the kingdom of Hawaii. The prolific artist is best known for his portraits of American Indians created for his Indian Gallery. The Center's groundbreaking exhibition features sixty of Stanley's key surviving works including his famous Indian portraits and scenes from military and government survey expeditions in the West.
"In his day, Stanley was viewed as the premier painter of American Indians," says exhibition co-curator, Peter H. Hassrick, Senior Scholar and Director Emeritus at the Center. "His motivation was to give America's Native people a face as the subjects of fine art—unlike artists George Catlin and Karl Bodmer who were driven more by the restraints of science and the desire to record the moment. Without Stanley, Americans would be hard pressed to find artistically well-considered images of Native Americans that span the entirety of the western United States."
In 1852, Stanley entrusted his Indian Gallery of more than 150 works to the Smithsonian Institution. The gallery grew to in excess of two hundred paintings, and scholars and art aficionados praised it for its superior artistic merit and historical value to the nation. It remained on display in the nation's capital for thirteen years until 1865, when a fire at the Smithsonian destroyed all but seven of Stanley's paintings. Despite this tragic loss, he continued his quest to paint the West and its inhabitants, and attempted to rebuild his gallery in various formats.
The Buffalo Bill Center of the West's retrospective highlights Stanley's aesthetic and philosophical vision. Find out more about the exhibition on the museum's website, as well as on Facebook and Twitter using the hashtag #JMStanley. After closing at the Buffalo Bill Center of the West, the exhibition travels to the Gilcrease Museum, in Tulsa, Oklahoma, (October 3, 2015 — January 3, 2016), followed by a run at the Tacoma Art Museum, Tacoma, Washington, (January 30 – May 1, 2016).
"Painted Journeys" is supported in part by a grant from the Wyoming Arts Council, through funding from the National Endowment for the Arts and the Wyoming State Legislature, and by a grant from the National Endowment for the Arts.
_________________________________________________________________________________________________
Since 1917, the award-winning Buffalo Bill Center of the West in Cody, Wyoming, has devoted itself to sharing the story of the authentic American West. The Center, an affiliate of the Smithsonian Institution, begins its summer schedule on May 1: open daily 8 a.m. – 6 p.m. For additional information, visit the Center's website or its pages on Facebook and Google+.