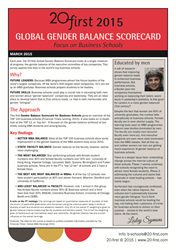 (PRWEB UK) 30 April 2015
20-first has released its new Gender Balance Scorecard focused on the world's leading business schools. The report gives an overview of the TOP 100 business schools (Financial Times ranking, 2015). It also takes an in-depth look at the TOP 12, or 'top tier'. It focuses on the gender balance achieved at two levels: among MBA students and among faculty.
Despite the fact that women are 60% of university graduates, the number falls precipitously at business schools. Female faculty are in even shorter supply. The learning tools used on MBA programmes feature case studies dominated by men. The faculty are mostly men (tenured faculty even more so). And executive programs are even more male dominated than the MBA classes. Add all this up, and neither women nor men are getting much experience of gender balance at business schools.
BETTER MBA BALANCE:
Most of the TOP 100 business schools show some improvement in the gender balance of the MBA student body since 2010.
STATIC FACULTY BALANCE: Gender balance on the faculty, however, seems more challenging.
THE MOST BALANCED: Star performing schools with female student numbers over 40% and female faculty numbers over 30% are: University of Hong Kong, Imperial College, Lancaster, Bath, Queens, Birmingham and Fudan business schools. None are in the FT's "top 12 tier" of schools and 2 have a female Dean.
THE BEST ARE MOST BALANCED re MBAs: 4 of the top 12 schools now have student participation at 40% and above: Harvard, Wharton, Stanford and University of California.
AND LEAST BALANCED re FACULTY: However, only 1 school in this group has female faculty numbers above 30% (IE Business school) and a third have less than 20%: INSEAD, Colombia Business School, University of Chicago Booth and CEIBS.
ABOUT 20-FIRST
20-first works with organisations that seek to move from 20th century mindsets, management styles and marketing approaches to more progressive 21st century forms - while staying first at the game. It advises and helps global companies interested in responding to 100% of the market and optimizing 100% of the talent pool.
ABOUT AVIVAH WITTENBERG-COX
Avivah Wittenberg-Cox is CEO of 20-first. Based in London, she is a consultant, coach and author. Her books include: Seven Steps to Leading Gender Balanced Businesses (HBR Press, 2014), HOW Women Mean Business (Wiley 2010) and WHY Women Mean Business (Wiley, 2009), see. She helps companies develop more inclusive leadership styles, build more gender-balanced management teams and review processes and policies to adapt them to 21st century talent and market realities.
Lesley Symons is a consultant with 20-first and a thought leader on gender balance in business schools and the tertiary education sector. Her ground-breaking research has shed new light on the almost total lack of gender balance in business school case studies. Lesley is a leadership coach and group facilitator with a particular interest in developing women leaders. Prior to coaching, Lesley had an extensive career with multinational organisations.
FOR MORE INFORMATION
For additional information on 20-first's 2014 Global Gender Balance Scorecard or to schedule an interview with Avivah Wittenberg-Cox or Lesley Symons, please contact: Martha Christie
Tel: + 44 20 7021 0752
Email: scorecard(AT)20-first.com
Website: http://www.20-first.com