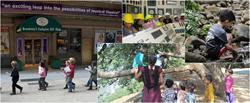 When teachers use the features of a city to study with their students, the walls between the school and the community become permeable.
New York, NY (PRWEB) April 29, 2015
Bank Street College of Education has launched the latest edition of the "Occasional Paper Series" titled Claiming the Promise of Place-Based Education, which explores place-based learning initiatives around the globe in both physical environments and in social contexts. This publication is the 33rd installment of the Series, which examines contemporary issues in education through a progressive lens.
In the past, place-based education has focused on natural environments with ecological significance. This issue introduces the idea of place-based learning in urban settings, including several examples of programs that allow students to acquire a sense of place through man-made environments.
"Place-based education is often thought of as education grounded in the natural world," said Susan Weseen, librarian, Bank Street graduate, and guest editor of the "Occasional Paper Series." "But in every educational setting, there are multiple dimensions to 'place.' This includes the physical environment, be it natural or built, as well as the social context."
Many essays highlight the practice in a traditional sense, with concrete examples of programs in locations like India, Hawaii, and Alaska. Others focus on this new idea of drawing on urban communities, where children learn from their environments in a social and economic perspective. In one essay, co-authors Peggy McNamara and Brian Andes explore a school in New York City that built a curriculum around the theater district.
"When teachers use the features of a city to study with their students, the walls between the school and the community become permeable," said Peggy McNamara, a Bank Street faculty member. "Students and teachers re-envision the city environment as a place where authentic learning can occur."
Each beautifully-crafted composition contains photographs of children interacting in their environments. Many contributors reference David Greenwood, an early and influential exponent of place-based education who is interviewed by guest editor Roberta Altman for this issue. Greenwood emphasizes the importance of expanding the educational landscape to include the diverse social and ecological contexts outside of the classroom.
This edition also underlines the value in learning from environmental conflicts that impact communities. An essay by Mark T. Kissling and Angela Calabrese Barton details a program in the distressed city of Lansing, Michigan, where students study a coal power plant to make sense of conflicting interests on new energy uses. Place-based education is consistent with Bank Street's progressive focus on the social uses of natural environments and enables students to acquire a deep understanding of what it takes for their communities to thrive.
About Bank Street
Since its founding in 1916, Bank Street College of Education has been an acclaimed educational institution and advocate for children and families. Bank Street is uniquely structured and internationally-recognized as a free-standing, private Graduate School of Education, an on-site independent School for Children, and a broad range of professional development and social programs. Its mission is to improve the education of children and their teachers by applying to the education process all available knowledge about learning and growth, and by connecting teaching and learning meaningfully to the outside world. For more information, visit http://www.bankstreet.edu.