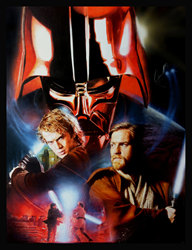 The Communicator Awards are like the Oscar awards for illustrators and are held in high regard in this field, so it is amazing to have my work recognized. Ciara McAvoy
Beverly Hills, Calif. (PRWEB) April 29, 2015
With the forthcoming release of Star Wars: The Force Awakens in December 2015 and the 10th Anniversary Celebration for the release of Star Wars: Episode III Revenge of the Sith, Ciara McAvoy's wins at the 2015 Communicator Awards for her Star Wars Revenge of the Sith poster are timely and fitting. McAvoy was also bestowed awards for her poster illustrations for X-Men and Filth, for a total of five awards.
With over 6000 entries received from across the US and around the world, the Communicator Awards is the largest and most competitive awards program honoring the creative excellence for communications professionals. The Communicator Awards are judged and overseen by the Academy of Interactive and Visual Arts (AIVA), a 600+ member organization of leading professionals from various disciplines of the visual arts dedicated to embracing progress and the evolving nature of traditional and interactive media. Current AIVA membership represents a "Who's Who" of acclaimed media, advertising, and marketing firms including: AirType Studio, Condè Nast, Disney, Keller Crescent, Lockheed Martin, Monster.com, MTV, rabble+rouser, Time Inc., Tribal DDB, Yahoo!, and many others.
Coming off wins at the prestigious Davey Awards and the 44th Annual Creativity International Print & Packaging Design Awards, McAvoy was elated to have her illustrations lauded again. "The Communicator Awards are like the Oscar awards for illustrators and are held in high regard in this field, so it is amazing to have my work recognized," McAvoy explained.
Her immediate projects include three character posters, in addition to a promotional poster, for "Enemy of Man," directed by Vincent Regan, and starring Sean Bean, Rupert Grint, Charles Dance and James D'Arcy. McAvoy, who is also a producer, added, "it's a passion project versus an assignment. This movie will be for sure a brilliant adaptation of the Scottish play 'Macbeth.'"
About Ciara McAvoy: McAvoy is a Scottish artist who primarily creates hand-drawn film posters using oil paint. Her work has been used by a wide variety of movie studios and production companies for modern films like X-Men: First Class and Filth. She has also painted posters for classic film series like Star Wars and Indiana Jones. Please visit the Ciara McAvoy's Official Website for more information. For information about commissions and art available for purchase, please contact her exclusive design studio at CMCV Studios Glasgow, cmcvstudios@icloud.com.
About the Communicator Awards: The Communicator Awards is the leading international awards program recognizing creative excellence in the communication field. Founded by communication professionals over a decade ago, The Communicator Awards is an annual competition honoring the best in advertising, corporate communications, public relations and identity work for print, video, audio and interactive work. The past year's Communicator Awards received over 9,000 submissions, making it one of the largest awards of its kind in the world. Please visit the Communicator Awards Website to view the full winners list.