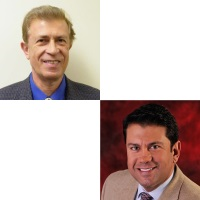 Yorba Linda, CA (PRWEB) April 28, 2015
Carolina Liquid Chemistries is sponsoring a new educational webinar, "The Evolution of Addiction Medicine - Survive or Thrive?" featuring discussions from Franco Sicuro MD and Carlos Himpler.
Franco Sicuro MD, reflecting on 30 years as board certified psychiatrist, will describe the journey of how Addiction Medicine has evolved over the last three decades; highlighting the expectations of physicians and treatment centers. Dr. Sicuro will discuss some of the challenges facing addiction practices and treatment centers and identify ways to evolve and thrive in its ever changing environment.
Carlos Himpler is a successful business development strategist and will discuss the process of implementing a clinical laboratory, along with its pitfalls and promise.
Dr. Sicuro is a board certified psychiatrist practicing for over 30 years. His private practice is located in Creve Coeur Missouri. He is the founder and Principal Investigator of Millennium Psychiatric Associates, a clinical research company conducting clinical trials in Alzheimer's, Schizophrenia, Depression and Bipolar illness. He is Clinical Associate Professor of Psychiatry at KCUMB in Kansas City. Dr. Sicuro founded The Heron Fund a charitable organization very active in supporting clean water projects and medical missions in third world countries. He has been serving as president of the organization since 2007.
Carlos Himpler specializes in Service Operations, Business Strategy and Corporate Development. Mr. Himpler is an Executive Level Strategist with extensive experience leading new business development and service operations. He has helped organizations reorganize and simplify business processes to maximize market share and customer delivery performance, as well as executing business development strategies to penetrate and expand key markets. Mr. Himpler has orchestrated joint ventures, business start-ups, reorganizations, mergers, acquisitions, and integration's to achieve sustainable and profitable growth. He has had P&L responsibility over multi-million dollar businesses and is currently a healthcare consultant for physician practices and hospitals across the country. Mr. Himpler has first-hand knowledge of what it takes to set up a clinical laboratory and has set up a number of laboratories for his clients.
The complimentary webinar, hosted by LabRoots, will be presented on April 29, 2015, at 11:00 am PST/2:00 pm EST/8:00 pm CET.
For full details and free registration, click here.
About Carolina Liquid Chemistries:
Carolina Liquid Chemistries Corp. is a manufacturer, distributor, re packager, and re labeler of chemistry instruments and reagents for use in the clinical chemistry laboratory. Laboratories today are looking to cut costs and retain quality. Carolina Liquid Chemistries helps clinical laboratories accomplish both with reagents for use on a variety of chemistry instruments and attractive service contracts.
About LabRoots:
LabRoots is the leading professional networking website designed to connect all science verticals. Founded in March 2008, LabRoots' vision was to connect the scientific world leveraging a myriad of unique features and tools, discovering meaningful collaborations across geographic boundaries and fields of expertise. LabRoots is the owner and producer of BioConference Live – which has grown into the world's largest series of virtual events within the Life Sciences and Clinical Diagnostics community.