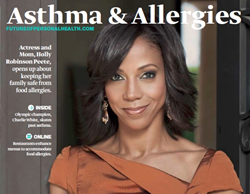 (PRWEB) May 01, 2015
In partnership with industry leader Skeeter Snacks, the campaign provides readers with educational insight about the growing number of those suffering from food allergies, how to identify the signs and tips on staying safe.
The print component of "Allergies and Asthma" is distributed within the weekend edition of USA Today in the New York, Boston, Atlanta, Pittsburgh, and Cleveland markets, with a circulation of approximately 250,000 copies and an estimated readership of 750,000. Its digital component was distributed nationally through a vast social media strategy and across a network of top news sites and partner outlets. To explore the digital version of the campaign, click here.
A great-tasting snack that is safe for people with nut allergies has been the mission of Dave Leyrer and Pete Najarian, founders of Skeeter Snacks. "Our mission is to create foods that are loved by everyone and ensure safety and inclusion for people with nut allergies. The strict controls in the factory and testing program ensure safety. Our great taste and affordable pricing create inclusion, because everyone loves Skeeter Nut Free, not just people with nut allergies," stated Larry Appel, Skeeter Snacks' CEO. "We hope that the availability of allergy-friendly products will continue to skyrocket over the next five years, because that will mean that people with food allergies have more and better choices to eat well and be safe."
The campaign focuses on giving sufferers of all ages options for living a life without limits by exploring the varied signs of a food allergy and providing readers with tips on how to handle a reaction. Inspiration is achieved through stories of passion, research and discovery.
This campaign was made possible with the support of actress, philanthropist and mom of allergy-sufferers, Holly Robinson Peete, FARE, AAAAI, Chef Joel Schaefer, Allergy and Asthma Network, Dr. Clifford Bassett, and ACAAI.
About Skeeter Nut Free
Skeeter Snacks based in Jacksonville, FL was founded in 2012 by two dads of nut-allergic kids. After deciphering through unclear food labels and years of frustration toward the lack of response by the food industry to the annual rise of food allergies, the two decided to take matters into their own hands. Thus, Skeeter Nut Free was born. A trusted brand that makes it a "no brainer" for parents, kids and groups to choose nut-free snacks that everyone loves. Skeeter Nut Free is in retailers and schools nationwide.
About Mediaplanet
Mediaplanet is the leading independent publisher of content-marketing campaigns covering a variety of topics and industries. We turn consumer interest into action by providing readers with motivational editorial, pairing it with relevant advertisers, and distributing it within top newspapers and online platforms around the world.