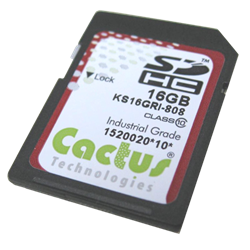 The 5-7 year life of our new Industrial Grade SD card allows Industrial OEMs to reduce obsolescence issues. It offers high performance and capacity while maintaining extreme quality and reliability.
Austin, TX (PRWEB) April 29, 2015
Cactus Technologies, Ltd. is launching the new 808 Series of extremely reliable Industrial Grade SD Cards available in capacities from 512MB to 16GB. They are based on a new Industrial controller which has an expected life of at least 5-7 years.
Sai-Ying Ng, President of Cactus Technologies Ltd. said, "The new 808 Series Industrial Grade SD card allows Industrial OEM customers to design in a product today and eliminate qualification of a new controller for 5-7 years. It offers higher performance and capacity than our current 806 Series while maintaining the same level of quality and reliability."
Cactus Technologies 808 Series Industrial Grade SD Cards offer:

Industry Standard SD Card form factor
Capacities from 512MB to 16GB
Sustained Read up to 28MB/second
Sustained Write up to 23MB/second
Standard -25C to 85C Operating Temp
Optional -45C to 90C Operating Temp
Firm BOM (Bill-Of-Material) Control
Long Life Cycles
>2M endurance cycles per block
Altitude spec of 100,000 feet
Powerful ECC and Defect Management
4M Hour Mean Time Between Failure
Joseph Chang, Vice President of Engineering, remarked, "The Cactus Technologies 808 Series follows in our long line of Industrial products. Very long life cycle OEM designs using the SD Interface will be well served with this offering."
Samples and production products are available today. Please contact Cactus for more details.
Cactus Technologies supports OEMs Worldwide to meet their objectives with the highest reliability Industrial Grade Flash Storage Products using industry leading controller technology and industrial strength flash memory. Our Industrial products enable OEM's systems to operate without a fault in the harshest and most mission critical environments.
1 MByte = 1 million bytes; 1 GByte = 1 billion bytes; 1Gbit = 1 billion bits.
Cactus Technologies and the Cactus logo are trademarks of Cactus Technologies, Ltd., registered in the U.S. and other countries. Other brand names mentioned herein are for identification purposes only and are trademarks of their respective holder(s).