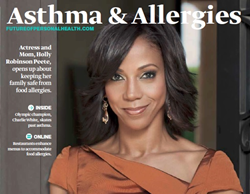 (PRWEB) May 01, 2015
In partnership with United Allergy Services (UAS), an allergy testing and immunotherapy center headquartered in San Antonio, Texas, this campaign informs readers on the options made available through new treatments.
"We are improving access for millions of allergy sufferers across the country by directly working with primary care physicians, including ENT physicians, pediatricians and internal medicine physicians, to provide advanced allergy care," says John Thresner, VP of Sales at United Allergy Services. UAS is providing relief for many sufferers through Immunotherapy, a shot or sublingual tablet that modifies how your body tolerates allergens like pollen, dust, animal dander and mold.
The print component of "Allergies and Asthma" is distributed within the weekend edition of USA Today in the New York, Boston, Atlanta, Pittsburgh, and Cleveland markets, with a circulation of approximately 250,000 copies and an estimated readership of 750,000. Its digital component was distributed nationally through a vast social media strategy and across a network of top news sites and partner outlets. To explore the digital version of the campaign, click here.
"Some studies have also shown that immunotherapy actually stops the progression of allergies to asthma, and may also prevent the onset of new allergies," shares Thresner. UAS has seen first-hand the positive results of immunotherapy and know that their work in developing protocol for administration as well as getting the message out about the safety of immunotherapy will help allergy sufferers for years to come.
This campaign was made possible with the support of actress, philanthropist and mom of allergy-sufferers, Holly Robinson Peete, Allergy and Asthma Network, AAAAI, Olympic Gold Medalist Charlie White, Dr. Clifford Bassett, and ACAAI.
About United Allergy Services
United Allergy Services exists to empower providers and advance the understanding of immunotherapy as the best kind of allergy treatment. In just five years, UAS has grown to more than 1,000 employees, and worked with more than 3,300 practitioners across 25 states. During that time, more than 10 million allergy tests have been conducted and 14 million immunotherapy treatments have been administered—83 percent of those being done in the patient's home.
About Mediaplanet
Mediaplanet is the leading independent publisher of content-marketing campaigns covering a variety of topics and industries. We turn consumer interest into action by providing readers with motivational editorial, pairing it with relevant advertisers, and distributing it within top newspapers and online platforms around the world.