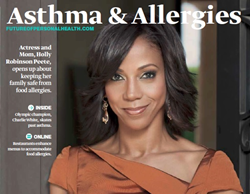 (PRWEB) May 01, 2015
One in five Americans suffer from at least one type of allergy while 24 million Americans report having asthma. With warmer weather hitting a majority of the country, Mediaplanet is proud to announce the launch of its sixth edition of "Allergies and Asthma," a guide for sufferers and their loved ones on how to determine triggers, manage symptoms and enjoy springtime.
"Thanks to increasing prevalence, greater awareness and improved diagnosis, everyone has friends or family members who are concerned with allergy or asthma triggers," says Dr. James Sublett, president of the American College of Allergy, Asthma and Immunology. The campaign offers insight on the various triggers for allergies and asthma and offers innovative ways to be sure your loved ones are healthy and happy.
The print component of "Allergies and Asthma" is distributed within the weekend edition of USA Today in the New York, Boston, Atlanta, Pittsburgh, and Cleveland markets, with a circulation of approximately 250,000 copies and an estimated readership of 750,000. Its digital component was distributed nationally through a vast social media strategy and across a network of top news sites and partner outlets. To explore the digital version of the campaign, click here.
"Getting rid of indoor allergens can be just as important to diminishing symptoms," shares Dr. Sublett. The campaign offers surprising tips and tricks for keeping your home free of allergens and asthma triggers. "Studies cited by the Carpet and Rug Institute prove that properly cleaned carpet can help reduce symptoms and is the best flooring choice for those dealing with asthma and allergies," shares Tom Lape, President of Mohawk Flooring Residential.
Increasing annually, food allergies are a major concern of parents across the country. FARE, Chef Joel Schaefer and actress and food-allergy mom, Holly Robinson Peete warn readers about signs and symptoms of potentially life-threatening reactions. "Knowing the signs and symptoms can save someone's life," shares Lynn Heun of FARE.
This campaign was made possible with the support of actress, philanthropist and mom of allergy-sufferers, Holly Robinson Peete, FARE, Mohawk Flooring, Meda Pharmaceuticals, Rite-Aid, Sun Butter, Skeeter Nut Free, United Allergy Services, Allergy and Asthma Network, AAAAI, Olympic Gold Medalist Charlie White, Marathon Runner Paula Radcliffe, Dr. Clifford Bassett, and ACAAI.
About Mediaplanet
Mediaplanet is the leading independent publisher of content-marketing campaigns covering a variety of topics and industries. We turn consumer interest into action by providing readers with motivational editorial, pairing it with relevant advertisers, and distributing it within top newspapers and online platforms around the world.