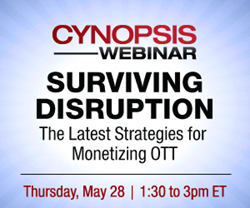 New York, NY (PRWEB) April 30, 2015
With the television ecosystem evolving at a rapid-fire pace, networks, advertisers and pay-TV providers are racing to catch up – or risk being left behind as OTT captures more and more consumers. The Cynopsis webinar, Surviving Disruption: The Latest Strategies for Monetizing OTT, on Thursday, May 28 from 1:30-3:00 p.m. ET, offers insights and tactics for creating, managing and monetizing over-the-top offerings. Understanding the shifting landscape and OTT's part in it is key to developing a balanced strategy that works.
Cynopsis Editor Lynn Leahey will host the May 28 webinar along with the following experts: Tim Connolly, Head of Distribution for Hulu; Andrew Hare, Director of Research & Consulting for Frank N. Magid Associates; and Jay Samit, CEO for SeaChange International.
At this webinar, attendees will learn:
-What the market leaders are doing, why it's working, and how content owners can apply it to their businesses
-The dos and don'ts/best practices for content owners looking to make an OTT streaming play
-Critical decisions for new streaming services to make: Free? Pricing? Ad supported? Distribution methods? Market?
-The importance of thinking global: How will business models differ in Denver and Dubai?
-How much is enough: You don't need 24/7 programming to lure subscribers
-Which shows are worth money in an OTT world
This highly interactive webinar will allow for real time Q&A's to ensure specific questions are answered. Register today for the Cynopsis webinar "Surviving Disruption: The Latest Strategies for Monetizing OTT."
All Webinar attendees will receive full access to speaker presentations for 1 year, along with a certificate of completion. Webinar tuition is based on location, not number of participants, so each registration site can have multiple participants for one low price. Questions? Contact Trish Pihonak at trish(at)cynopsis(dot)com.
About Cynopsis Media:
Cynopsis Media is a division of Access Intelligence LLC. The Cynopsis Media family of products includes Cynopsis, Cynopsis Digital and Cynopsis Sports daily e-publications, Cynopsis Classified Advantage e-publications, Special eReports, Event/Summits and a strong database of Classifieds and more. Visit cynopsis.com.
###