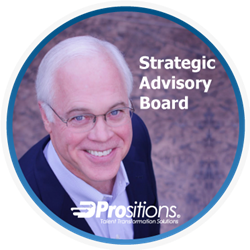 I am thrilled to bring my experience and knowledge to the table. Frank's track record of building 'game-changing' technology solutions for the HR industry is unmatched and I'm proud to be associated with Prositions."
Des Moines, Iowa (PRWEB) April 29, 2015
Prositions, Inc., creator of MentorString, the leading virtual mentoring software platform, announced today that internationally recognized speaker, executive coach, and author, John Parker Stewart, has joined the company's Strategic Advisory Board.
"John is a wonderful thought leader in the leadership coaching and development industry," said Frank Russell, CEO of Prositions. "I've worked with him for many years and used his content in several of our products and solutions. Having John as a part of our Strategic Advisory Board is an incredible resource and excellent fit for us."
John Parker Stewart is the President and Founder of Stewart Leadership, and has coached and trained tens of thousands of leaders worldwide for over 35 years. He works with organizations like Citibank, U.S. Air Force, Lockheed Martin, Toshiba, and others to deliver research, consulting, mentoring, and coaching services. John was selected "National Trainer of the Year" by Association for Training and Development for two consecutive years.
"Being a part of Prositions' Strategic Advisory Board is a wonderful opportunity" said John Parker Stewart. "They're putting together a wide array of mentoring and coaching solutions, and I am thrilled to bring my experience and knowledge to the table. Frank's track record of building 'game-changing' technology solutions for the HR industry is unmatched and I'm proud to be associated with Prositions."
John recently published the three-book Stewart Leadership Series. The title book, LEAD NOW!, A Personal Coaching Guide for Results-Driven Leaders, recently won the coveted Indie Excellence Award in Leadership.
"Our new Advisory Board brings together the top thought leaders in our industry," said Robin Salsberry, President and COO of Prositions. "John Parker Stewart will be a significant addition to the already impressive team of experts we have on our Board."
About Prositions
Prositions, Inc. is a rapidly growing Talent Transformation firm that offers career transition assistance, leadership development, performance coaching, and virtual mentoring services. It does this in a unique and advanced way, by combining the power of technology with an international network of coaching experts. Its latest software application, MentorString, enables organizations to leverage virtual mentoring and secure collaboration technology using the latest cloud-based, social and mobile technologies. For more information about Prositions and their unique solutions, visit http://www.prositions.com.