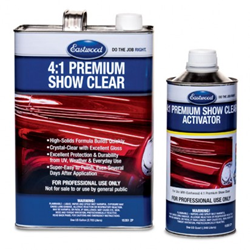 There have been magazine cover cars and SEMA show cars painted with Eastwood finishes
Pottstown, PA (PRWEB) April 30, 2015
The Eastwood Company has introduced nine new single stage urethane automotive paint colors and 19 new basecoat colors, to kick off the DIY auto paint season. In addition, a premium 4:1 show clear coat has been added, plus over 35 pearls, flakes, and chameleon additives. These professional-grade refinishing products allow DIY hobbyists to achieve professional results at a DIY price.
All of Eastwood's basecoats and single stage urethane paints are 50-state compliant, in addition to its DTM (Direct to Metal) Epoxy Primers. Featuring 3:1 mix ratios for single stage urethanes and 4:1 mix ratios for basecoats, Eastwood designed its system with ease of use for the end user. "Paint is arguably the first thing most will notice about your vehicle," said Nick Capinski, Eastwood's Director of Product Solutions. "Eastwood's paints are easy to mix, easy to spray, and easy on the wallet. Although they are priced for the DIY user, professional results are the end goal. There have been magazine cover cars and SEMA show cars painted with Eastwood finishes."
Featuring over 60 different colors, including candies and flats, Eastwood has everything from OEM muscle car colors to custom metallics. For the Kustom crowd, the new pearls, flakes and chameleons provide countless custom finishes that can be achieved.
Eastwood's new 4:1 High Solids Premium Show Clear offers a deep, beautiful gloss in an easy to spray clear. This product flows and self-levels, and is easy to color sand and buff for a true show car finish.
Eastwood markets unique tools and supplies for repair, restoration, and modification of cars, trucks, and motorcycles. Founded in 1978, Eastwood strives to develop new products to serve the home automotive hobbyist, as well as individuals and organizations focused on the restoration and preservation of automobiles and motorcycles. For more information on Eastwood's line of paints and refinishing supplies, contact Nick Capinski – ncapinski(at)eastwood(dot)com or 610-705-5404.