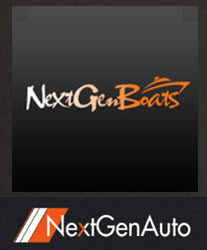 "Our suite of innovative solutions includes Equity Mining, Service CRM and many more that provide Marine Dealers with the tools they need to generate new sales from past customers"
Dallas, TX (PRWEB) April 29, 2015
NextGenBoats® is an Interactive Dealer and Inventory management suite for Marine Dealers. NextGenAuto's state of the art Vehicle Management System and tools allow Marine Dealers to manage their sales team, process and inventory in an entirely electronic solution, extending the dealers own inventory information to the sales team by leveraging NFC technology and mobile devices.
"We are excited to announce the launch of the NextGenAuto Marine solutions, NextGenBoats® and our dealer branded consumer mobile application, to the Marine dealer market" said Kartik Kakarala, CEO and Founder of NextGenAuto. "Our suite of innovative solutions provides the tools for Marine Dealers to be more efficient in their sales processes and capture customer information more easily. The Equity Mining tool alone provides Marine dealers with the ability to generate new sales from past customers".
The NextGenBoats® solution offers:

The Equity Mining Tool - providing analysis of the dealers existing customer base, capturing and reporting on key information such as equity position, interest rate, current loan information, and much more, helping to generate new sales from past customers.
Book values, auction and market data which allows the Marine Dealer to understand local market data on comparable inventory units, average turn time and inventory aging.
Real-time Customer Session Management - provides the dealership management team insight into each sales session and allowing them to track deals at any stage, from start to finish.
Tracking Customer Information - from the first capture of information, to completing the financing, NextGenBoats® tracks each state in the sales process.
Customer Wish List – if the dealer does not have the customers ideal RV, the NextGenBoats® solution can track that customers request, monitoring inventory and the surrounding market for that RV.
"The NextGenBoats® and dealer branded consumer mobile application solutions from NextGenAuto provide the tools for dealers to be more connected with their customers, providing a dealer branded consumer mobile application. By providing the branded consumer mobile application to their customer base, dealers are able to interact with their customers through their customers' mobile devices. Rich text promotional marketing campaigns can be initiated directly at the consumers through this application's notification management system", said Mr. Kakarala.
The NextGenBoats Consumer application includes:
Direct Marketing to Customers - through the dealer branded consumer mobileaApplication, dealers can reduce their direct marketing and advertising costs while targeting consumer that have the Dealers app on their mobile device.
Service Management Solution – Allows Marine Dealer customers the ability request and schedule service via their mobile device and allows two way communications with their customers.
NextGenAuto integrates with CDK Lightspeed EVO/NXT
NextGenAuto solutions now integrate with CDK Global LightSpeedEVO and LightSpeedNXT. Through this direct integration, NextGenBoats® enhances the dealerships' ability to use its own data for mining of customer information and to enable direct, targeted marketing to their customer base. This also eliminates multiple entry points of data into the dealerships systems, providing direct feed of leads, inventory and merchandise into the NextGenBoats® solution.
NextGenAuto Expanding Customer Base
"NextGenAuto is currently working with and implementing our NextGenBoats® solution with some of the largest dealer groups in the U.S." said Kakarala. "We are implementing industry best practices into our solution, based on our customer's needs and requirements".
About NextGenAuto
NextGenAuto Mobile Solutions are customized to the Dealership/Company Name, Branding and Marketing Schemes. Our Mobile applications are launched in Apple, Android, and Windows platforms.
NextGenAuto provides interactive, mobile-based inventory and customer management solutions for the Recreational Vehicle, marine and RV industries. Leveraging the years of experience in the automotive vertical, NextGenAuto is applying their experience and expertise to these new industries, offering state of the art mobile solutions. NextGenAuto is based out of Dallas, TX.