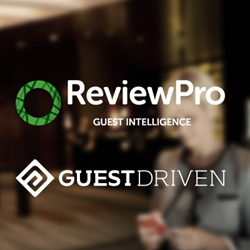 A new level of guest engagement at key moments of the guest journey, using real time data to intelligently merchandise inventory
Montreal, Quebec (PRWEB) April 29, 2015
Award-winning guest engagement technology leader GuestDriven today announces a new collaboration with ReviewPro, the world-leading provider of guest intelligence to the hospitality industry.
The two travel technology solutions are now working together to offer hotels and resorts a new level of guest engagement at key moments of the guest journey, using real time data to intelligently merchandise inventory.
GuestDriven is an award-winning guest engagement platform comprised of web and native applications for strategic engagement before and during the guest's stay onsite at the hotel. Its guest- facing products Express and Engage are controlled via the hotel-facing Dashboard, a cloud-based controller to optimize revenue channels while giving guests a powerful mobile experience to compliment their physical experience.
ReviewPro, with more than 17,000 clients in 100+ countries, enables hotels to increase guest satisfaction by focusing on making the necessary operational and service improvements, as well as benchmark progress against their own historic performance and the performance of competing hotels. The company's cloud-based Online Reputation Management (ORM) and Guest Survey Solution (GSS) is used by leading hotel brands around the world to improve guests experiences. ReviewPro's ORM solution features the industry-standard Global Review IndexTM (GRI), a proven benchmark for measuring guest feedback based on review data aggregated from 142 online travel agencies (OTAs) and review sites in more than 45 languages.
New and existing customers of both companies can benefit from understanding the difference that a guest engagement strategy can make to the bottom line, when powered by the right data at the right time. Using the Global Review IndexTM to unlock pricing power is just one of the many benefits this working relationship will bring to hotels. GuestDriven CEO Anthony Zebrowski-Rubin believes the services of the two companies are complimentary, where guest intelligence can guide merchandising decisions:
"Our pre-check-in solution GuestDriven Express is a revenue generation tool at heart, which is built around a specific window of time prior to arrival where conversions are strongest. The offers and upgrades guests can access at that point will be powered and optimized by ReviewPro's real-time intelligence engine."
ReviewPro VP of Business Development Josiah Mackenzie added, "For hotels, upselling is most effective when approached with a service mindset. ReviewPro's guest intelligence platform helps hoteliers identify which amenities and services their guests love the most, and these can then be merchandised through GuestDriven's mobile platform – benefitting guests and driving revenue for the hotel."
The two teams are co-hosting a webinar on Wednesday 29th April at 11am EST and invite hotel revenue, marketing and operations managers to sign up to be among the first to hear experts from GuestDriven and ReviewPro discuss the new collaboration and how the platforms will empower guest engagement and hotel reputation management. The sign-up links for the webinar can be found on the social media channels of both companies or here.
Press Contact – media(at)guestdriven(dot)com
About GuestDriven
GuestDriven is a Mobile Guest Engagement platform that enables hotels to interact directly with guests via their mobile devices. Valuable marketing data, including guest preferences and behaviors and social media profiles, is passed to hoteliers, which can be leveraged to elevate guest experience and increase revenues by offering personalized perks, promotions and rewards. An integrated suite of specialized tools for targeting, campaigning and interacting with guests at every stage of travel assists hospitality brands in enablement of customer advocacy, allowing hotels to reward loyalty in real-time. GuestDriven was named a Top 20 Company by the Canadian Innovation Exchange. Founded in 2010 and headquartered in Montreal, Canada, GuestDriven has implementations in over 60 cities and more than 300 properties worldwide.
For more information see: http://www.guestdriven.com
About ReviewPro
ReviewPro is the leading provider of Guest Intelligence solutions to independent hotel brands worldwide. The company's comprehensive suite of cloud-based solutions includes Online Reputation Management (ORM) and the Guest Survey Solution (GSS), which enable hoteliers to obtain deeper insight into operational and service strengths and weaknesses, increasing guest satisfaction, ranking on review sites and OTAs, and driving revenue. The company offers the industry-standard Global Review IndexTM (GRI), an online reputation score (available exclusively to ReviewPro clients), which is used by thousands of hotels worldwide as a benchmark for reputation management efforts, based on review data collected from 142 online travel agencies (OTAs) and review sites in more than 45 languages. More than 17,000 hotel brands worldwide are currently using ReviewPro's solutions, including Loews Hotels, Morgans Hotel Group, citizenM and the Library Hotel Collection, among many others.
For more information see: http://www.reviewpro.com