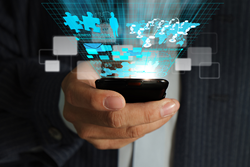 [This] translates into a financial windfall for our clients...
Cortland, New York (PRWEB) April 29, 2015
Systems East, Inc., owner/operator of the Xpress-pay ePayment solution, announced today that it has completed a direct integration of its mobile wallet with the Dinerware restaurant point of sale (POS) system. This new partnership gives restaurant patrons the ability to pay with their smartphone. Moreover, patrons may also set up their Xpress-pay wallet account to safely store their payment credentials and simplify future transactions. In turn, restaurants should see more streamlined payments allowing them to serve more customers to increase revenues, and numerous other benefits afforded to them by embracing mobile payments.
Jim Buttino, President of Systems East and lead developer, had this to say: "We understand that time is an extremely valuable commodity for both owners and customers, so we wanted to deliver a solution that helps our clients address this component. By giving patrons the ability to pay immediately, I believe we've accomplished that. From start to finish, it takes about 11 minutes on average for a check to be settled right now. Xpress-pay reduces that to less than a minute, meaning for every six tables that "Xpress-pay" their bill, the establishment gains an additional hour back to serve new customers. That translates into a financial windfall for our clients, especially those who focus on time-sensitive services like lunch and happy hour."
To pay, patrons scan the QR code printed on their check to launch the Xpress-pay secure mobile website. The user is then presented with their bill amount and the ability to adjust their tip. The customer enters their credit card credentials, confirms their payment, and is provided their receipt both onscreen and by email. From start to finish the entire process takes about 45 seconds. They can also provide a password to save their credentials, meaning subsequent payments can be made in under twenty seconds.
From the restaurant's perspective, the direct integration also means both systems communicate in real-time. This ensures the proper bill amount is always paid, and allows all payments to be routed through the POS and the establishment's existing merchant account. This keeps costs down for the merchant, and eliminates many barriers to adoption inherent in other mobile pay-at-the-table solutions.
Mr. Buttino added, "By giving patrons more control over their experience and our clients a chance to increase sales, we believe we've delivered the most valuable solution possible for everyone. We're even helping our clients get to know their customers better by sharing certain non-sensitive data points with them. All of this makes it a true win-win solution."
Moving forward, Xpress-pay is now working with Dinerware to establish a compensated-reseller program for anyone looking to get this in the hands of their current or prospective Dinerware customers. Jim closed by saying, "Now that we have the certification in place, we're excited to begin working with Dinerware's network of dealers to begin channel penetration. With more than 20,000 Dinerware customers, this is no small feat. However, we're looking forward to the substantial opportunity, and we're happy to be leading the mobile payments charge with a venerable partner like Dinerware."
About Dinerware:
Founded in 2000, Seattle-based Dinerware provides restaurant point of sale software solutions to the hospitality industry. Dinerware can be found in upscale restaurants, cafes, nightclubs, bar and grills, fast casual restaurants, counter service establishments, quick serve restaurants, hotels, casinos, cafeterias, golf courses, and wineries.
Thousands of restaurants have selected Dinerware software based on word of mouth recommendations from our existing customers based on its ease of use, reliability, and flexibility. Dinerware is an RSPA-certified vendor, and is sold and supported through an authorized dealer network across North America, the United Kingdom, and other countries around the world served by our partners in the Middle East and Southeast Asia.
About Systems East, Inc. & Xpress-pay:
Systems East has been a leading provider of finance, collection, and payment software since 1981. In 2005, Xpress-pay.com began providing online payment solutions, adding touchtone telephone payments in 2007. Xpress-pay Mobile was added to their ePayment product suite in 2011.
Xpress-pay now provides the payment/donation platform for a variety of businesses and organizations across the U.S. and elsewhere. Regardless of the payment channel, all payment, reporting, and administrative functions are delivered through a single, secure, user-friendly platform.