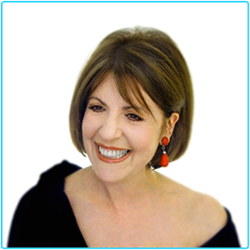 Carol is a consummate artist, a great jazz singer who sings every song from the depths.
New York, NY (PRWEB) May 01, 2015
Soundbrush Records congratulates its label artist, Carol Fredette, as she was honored with the 2015 Bistro Award for Ongoing Jazz Artistry. The veteran jazz vocalist joins the ranks of prominent artists who receive the Bistro Awards each year for outstanding achievement in New York cabaret, jazz, and comedy.
The Bistro Award brings to attention Carol Fredette's impressive talent, spirit and a career trajectory that seems boundless. Her recent performances and latest recording on Soundbrush Records continue to delight jazz fans and critics alike. On her latest CD, No Sad Songs for Me released in 2014, Carol infuses her love of music and optimism invoked by love to create magic for her listeners. "Fredette's delivery is refreshingly direct and expressive throughout; her warm alto conveys the wit and calm of the fully-formed grown-up who knows whereof she sings. The music on 'No Sad Songs for Me' will delight anyone who appreciates vocal jazz at its highest level and in its most conducive setting," writes Dr. Judith Schlesinger on AllAboutJazz.com.
"Carol is a consummate artist, a great jazz singer who sings every song from the depths," says Roger C. Davidson, founder of Soundbrush Records. "She doesn't just deliver the notes, she delivers the whole song."
Growing up in the Bronx, Carol Fredette was greatly inspired by the music of Chet Baker, Stan Kenton and Frank Sinatra. She hit the New York jazz scene at the age of 18 after landing her first gig at Greenwich Village's infamous Page Three. Carol has since headlined every major jazz club in the city in addition to performing at prestigious venues around the country and internationally. Her music never fails to draw in her listeners. For Carol Fredette, "…singing this music is ultimately about swinging – and bringing the words of a song to life from one's own experience, so that the words written by someone else become your words, your story…and ultimately the story of your audience."
About Soundbrush Records
Inspired by the connection between musical and visual arts, pianist and composer, Roger C. Davidson launched Soundbrush Records in 2002 with a mission to promote cross-cultural projects and produce jazz and world music from Brazil, Argentina, Cuba, and other countries throughout the Caribbean and Latin America. Over the years, Soundbrush Records has forged a unique place among contemporary record labels to showcase original work of critically acclaimed artists from all corners of the world, including Pablo Aslan, David Finck, Carol Fredette, and Marco Granados, as well as Grammy winners Frank London, Fernando Otero and Raul Jaurena. To learn more about Soundbrush Records and the Label's artists, visit http://www.soundbrush.com.