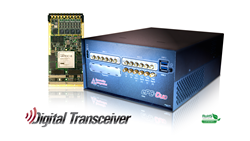 The V616 takes software defined instrumentation to an unprecedented level. Sophisticated customers demand a versatile, affordable solution that delivers a scalable solution. - Jim Henderson, President & founder Innovative Integration
Camarillo, CA (PRWEB) April 30, 2015
Innovative Integration, a trusted supplier of signal processing and data acquisition hardware and software solutions, today announced the V616 Digital Transceiver. The V616 Digital Transceiver provides a turnkey solution for Surveillance, Arbitrary Waveform Generator/Player, Spectrum Analysis and Digital Receiver.
The V616 digital transceiver supports one or two plug-in modules, each featuring four independent channels of DDC, two DUC, and one spectrum analyzer embedded in the Xilinx Virtex-6 FPGA. It allows users to monitor the wide-band or narrow band spectrum and record the data directly from the ADCs or down-convert the channels modulated on the IF band. The embedded PC supports contiguous recording at 2,000 MByte until running out of disk space. The transmitter can play a recorded baseband waveform of independent bandwidth, up-convert and modulate it on the IF band on the DACs.
Each DDC/DUC has its own programmable tuner, programmable low-pass filtering, gain control, and decimation/interpolation setting, supporting independent channel bandwidths up-to 100 MHz. The spectrum analyzer, including windowing, calculates the wide- band spectrum of the ADC data or the narrow-band spectrum of the DDC output data at the programmable update rate.
A development kit is available for the custom design. Users can insert custom-made cores to create even more advanced applications. " The V616 Digital Transceiver takes software defined instrumentation to an unprecedented level. Sophisticated customers demand a versatile, affordable system that delivers a scalable solution, and the modular V6xx architecture is the best way to accomplish these objectives." - Jim Henderson founder and President of Innovative Integration.
About Innovative Integration
Innovative Integration is a subsidiary of Interconnect Systems, Inc. Innovative Integration is a data acquisition company that designs embedded boards, for digital signal processing, software defined radio and data acquisition with digital & analog interfaces which incorporates re configurable FPGAs that include the form factors of XMC, FMC, PMC, cPCI, PCIe, VME, & VPX. Digital receiver instrumentation and embedded PCs are also included within our product portfolio. For more information on Innovative Integration please visit http://www.innovative-dsp.com. Innovative Integration is a registered trademark of Interconnect Systems, Inc. All other trademarks mentioned are the property of their respective owners.