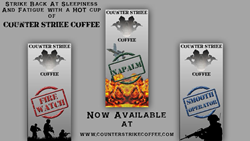 All of the proceeds earned will be turned right back into our company and a portion of it will be donated to charitable veteran organizations
St. Louis, Missouri (PRWEB) April 29, 2015
A 10 year combat veteran, Brandon Buttrey from Houston, Texas, has decided to brand a new line of outstanding coffee that reflects some of the experiences individuals have, while serving this great country of ours.
Veterans, active duty military and military supporters alike, will be able to enjoy the animated depictions of each roast, while consuming some of the best coffee you could ever possibly imagine.
The idea came to him while instructing individuals during one of his field to urban medical integration classes. "I provide coffee for my classes and have a donation bucket. There were always a lot of contributors, so I figured a market there, somewhere," Buttrey says.
Buttrey reflected upon his time in service when coffee was held at a high regard for functionality. He knew that if he designed a military/veteran friendly coffee brand that he could have some serious potential customers. The buck does not stop there.
"All of the proceeds earned will be turned right back into our company and a portion of it will be donated to charitable veteran organizations," concludes Buttrey.
Not only is the company giving back to the veteran community, they are supporting veteran owned companies by purchasing the roasted grounds from another veteran owned company right here in the US.
Strike back at sleepiness and fatigue with a hot cup of counter strike coffee. Now with three amazing blends, including Fire Watch that's got a fully loaded magazine of caffeine to ensure an all-nighter, Napalm where there is nothing like the smell of napalm in the morning, and Smooth Operator for those days where the job needs to be done incognito.
Counter Strike Coffee can be pre-ordered at http://www.counterstrikecoffee.com/.
Show support and appreciation for the warriors that have bled for this country and check out Counter Strike Coffee. There will be no regrets!