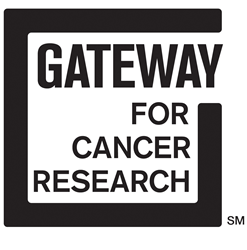 With each new discovery, we advance one step closer to conquering cancer.
SCHAUMBURG, Ill. (PRWEB) April 29, 2015
Gateway for Cancer Research, a nonprofit organization hosted a panel of researchers that represented the past, present and future grant recipients for its Annual Meeting. More than 120 esteemed guests were in attendance; the event took place at Embassy Suites Chicago Downtown Lakefront.
William E. Gillanders, MD, Washington University School of Medicine, represented the past as his Gateway-funded clinical trial started accruing patients in 2007. His research was a Phase I clinical trial to evaluate the safety and immunogenicity of a mammaglobin-A DNA vaccine in patients with metastatic breast cancer. Mammaglobin-A is a protein that is expressed at high levels in most breast cancers, but not in normal tissues. As such, mammaglobin-A is a very attractive target for a breast cancer vaccine. Dr. Gillanders brought together a team of scientists at Washington University to develop an innovative DNA vaccine targeting mammaglobin-A This clinical trial, funded by the Gateway for Cancer Research, demonstrated the safety of the vaccine and confirmed that the vaccine could effectively stimulate the immune system. Even more exciting, the vaccine appeared to slow the growth of the breast cancer.
Holbrook Kohrt, MD, PhD, Stanford University Medical Center, signified the present as he showed that a direct injection of low doses of an immune stimulant drug can trigger a systemic antitumor immune response while preventing the patient's immune system from attacking healthy organs in a Gateway-funded clinical trial. Antitumor activity of monoclonal antibodies is dependent, in part, upon the immune response, which recognizes and destroys antibody-bound tumor cells. Dr. Kohrt focuses on developing therapies that improve the activity of monoclonal antibodies, with the ultimate goal of eliminating the need for chemotherapy as a treatment for cancer patients.
Sarah Leary, MD, Seattle Children's Hospital, symbolizes the future of Gateway-funded research; Dr. Leary was part of a team of cancer researchers that used scorpion venom and a bonded florescent molecule to fight deadly brain cancer through a new product called "Tumor Paint." Tumor paint was created by utilizing a protein derived from the paralyzing venom of an Israeli deathstalker scorpion. The re-engineered protein, which seeks and binds to cancer cells, is then joined with a fluorescent molecule to create a biological "flashlight". The "paint" will bond to and light up the tumor with the special florescent molecules that will allow surgeons to then remove cancerous tissue only and thereby increasing quality of life.
Each researcher readily proclaimed, "Without funding from organizations like Gateway, none of the pioneering phase 1 or phase 2 clinical trials would ever be possible…"
"With each new discovery, we advance one step closer to conquering cancer." – Teresa Hall Bartels, President, Gateway for Cancer Research.
"We purposely and exclusively invest in the next generation of potential breakthroughs in patient-centered cancer research in order to drive transformational advances today!" – Richard J Stephenson, Chairman of the Board, Gateway for Cancer Research.
For more on Gateway for Cancer Research and the innovative, patient-centered cancer research studies it funds, visit http://www.GatewayCR.org.
# # #
About Gateway for Cancer ResearchSM
Gateway for Cancer Research is a nonprofit 501 (c)(3) organization committed to funding innovative cancer research studies that help today's cancer patients feel better, live longer and conquer cancer TODAY!. Thanks to generous underwriting by Cancer Treatment Centers of America®, 99 cents of every dollar Gateway receives directly funds phase I and phase II cancer clinical trials at leading research institutions across the country and abroad. Since 1991 Gateway has supported more than 120 clinical trials and funded millions in leading-edge research, including blending the best of conventional, and complementary and alternative therapies. Get involved today by visiting GatewayCR.org, like us on Facebook at facebook.com/demandcures and join the conversation on Twitter @DemandCures. #BeAGateway.