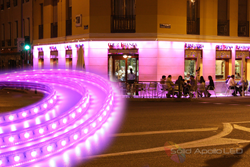 LED strip lighting is very different from traditional lighting as it has a simple low profile shape and the light adds a very modern look without the hassle of extensive installation
Seattle, WA (PRWEB) April 29, 2015
Enjoying a fine meal outdoors has been a human experience since the beginning of time, but as restaurants and outdoor eating establishments evolve into more advanced and interesting designs and layouts, trying to find lighting to fit every design can be difficult. LED lighting resolves the difficulties of traditional lighting by being flexible and offered in a large range of vibrant controllable colors and multiple shades of white. Whether adding lighting to a permanent outdoor area or a temporary seasonal area, LED lighting is a simple solution without the need for extensive installation requirements.
Traditional waterproof lighting used in many outdoor restaurants and bars have been limited to spot lights requiring extensive installation and specific fixtures, and for a wider angle of lighting flood lights have been used but have been too bright and unattractive when used in areas that need to be appealing to customers. Even worse, most of the lighting is fixed or stuck to specific extendable fixtures, further reducing the ability to be creative and adaptable to changing designs and for temporary and seasonal eating areas.
One of the easiest ways to bring extra lighting to an area is with LED Strip Lighting. "LED strip lighting is very different from traditional lighting as it has a simple low profile shape and the light adds a very modern look without the hassle of extensive installation" stated Manuel Barquin, CEO of Solid Apollo LED. Solid Apollo offers a variety of waterproof LED Strip Lights for adding bright linear accent lighting and workable lighting. LED Strip Light is perfect for adding to a variety of locations because of the low profile shape and the ability to cut the strip every several inches. This high level of customization is perfect for adding lighting to intricate locations, such as wine racks in each bottle cabinet, or for larger installations such as along beams and under porch over-hangs for even more lighting compared to traditional spot lighting. Positioned correctly, the LED Strip Light provides a beautiful glow of linear lighting without the hot spots seen with can lighting. The colors available range from solid single colors such as warm white, pure white, red , green and blue, to fully color changing LED Strip lighting able to show either a specific single color, or play a color changing lighting program for added excitement and energy.
By using LED lighting a range of controllers are available to precisely and easily control any LED lights. LED controllers and dimmers from Solid Apollo range from in-wall options, to handheld remote control options and there is even a Wi-Fi option using any smartphone or tablet to control the lighting. One type of controller recently introduced is the Waterproof DMX to RGB-W Controller which can be used with a DMX controller or as a stand alone controller for choosing specific colors and color changing programs. The waterproof controller saves time and energy by offering a fully waterproof solution without the need for a waterproof box and includes 18" of waterproof wiring for easy splicing into existing wiring.
Another versatile option of LED Strip Lighting is Driverless LED Strip Lighting. Driverless is perfect for adding long runs of light all on one plug, without the need for extra drivers. The driverless LED strip light from Solid Apollo comes in lengths as short as 19.68 inches up to 165 continuous feet all on one plug. The energy saving and low profile design has cut points every 19.68 inches and is perfect for temporary and seasonal eating areas, such as perimeter fencing along a dining area, where strips can be cut and connected with interconnectors to each fencing section for a flexible lighting option. Driverless LED Strip Light can even be added around awnings for extra lighting. The low 0.25 inch height on the Ultra Bright Driverless LED Strip ensures it can be added without getting in the way, just a simple power cord is needed to power the lights and do not require extensive installation and specific fixtures for the lighting to work. The slim design also means the driverless strip can be easily folded away with the awnings or other folding roofing without the need to remove and store separately.
LED lights for outdoor restaurants and bars are the perfect solution for adding beautiful controllable lighting without the hassle and extensive installation of traditional lighting.
About SolidApollo.com: Solid Apollo manufactures and distributes a wide range of LED lighting products and solutions and offers a 30 day money back guarantee, free shipping on orders over $150, and excellent customer service.