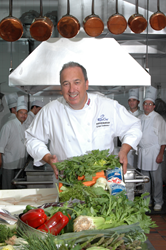 Having the 'Royal Chef' aboard our 'Idyllic British Isles' sailing is a perfect match
Seattle, WA (PRWEB) April 29, 2015
Windstar Cruises announces their newest Private Event Host, "Royal Chef" Darren McGrady, as part of the global roll-out of the small ship cruise line's new Private Event program in 2015. Each Windstar sailing now boasts a unique and complimentary "private event" with a region-specific experience, allowing guests the opportunity to connect more deeply with the destination during their cruise.
Chef Darren was personal chef to Queen Elizabeth II; Diana, Princess of Wales; and Princes William and Harry for 15 years. Darren will come aboard Windstar's June 19 Idyllic British Isles sailing as the Private Event Host, attending Windstar's Private Event at Picton Castle, a 13th century castle reserved for Windstar guests to explore while enjoying appetizers, sparkling wine, and music from a Welsh choir.
Back on board that evening, Chef Darren will prepare a three course "royal feast" for guests, taking time before each course to explain his selections and techniques while telling stories from his time cooking at Buckingham Palace. Additionally, Chef Darren will host an afternoon tea on board during the sailing, answering guests' questions and sharing his favorite recipes and cookbook.
Chef Darren is the second Private Event Host announced in 2015, with Olympic Swimmer Mark Spitz serving as host of the Prickly Pear Beach Private Event on the Yachtsman's Caribbean Voyage in January. Mark conducted a series of swimming master classes for guests while they also enjoyed a cocktail classes, beach BBQ-fare, and music.
Other Private Events in 2015 include a wine tasting and tour in Italy with traditional Sicilian lunch; tapas and folk dance lessons; and an equestrian ballet and sherry tasting, among others.
Additional celebrity hosts for different Windstar sailing destinations will be announced in the coming months.
"Having the 'Royal Chef' aboard our 'Idyllic British Isles' sailing is a perfect match," said Hans Birkholz, Windstar Cruises' chief executive officer. "Our Private Events are about enhancing the guest experience and helping them more fully engage with the destination in a way that only small ship cruising can offer. We look forward to hearing Chef Darren's stories from his time cooking for the Royal Family, and more importantly, tasting his creations."
About Windstar Cruises
Windstar Cruises operates a fleet of small luxury cruise ships known for its intimate yacht style experience and unique voyages to the world's best small ports and hidden harbors. Its three recently renovated sailing yachts carry just 148 to 310 guests and cruise to 52 nations, calling at 155 ports throughout Europe, the South Pacific, the Caribbean, Asia, South America, and Central America. In May 2014, Windstar launched Star Pride, the first of three newly acquired power yachts. In May 2015 the company launches Star Breeze and Star Legend. The power yachts, with a capacity of 212 guests each, will double the size of Windstar's fleet, making the company the market leader in small ship cruising with 300 or fewer passengers, with a total of 1,242 berths Windstar was recently named Condé Nast Traveler's #1 small ship cruise line in the world.
For more information including rates and itineraries, contact a travel professional or call Windstar at 800.258.7245, or visit http://www.windstarcruises.com.
###