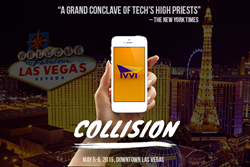 Finally, an app that puts the power back into the hands of its users.
Las Vegas, NV (PRWEB) April 30, 2015
The newest viral video craze, ivvi app, has been invited to one of the biggest technology conferences in the world, Collision to unveil the ivvi mobile app for iOS. Collision, a grand conclave of tech's high-priests was home to groundbreaking platforms such as Uber, Vine and Nest to name a few.
The ivvi app has been described as "a social, social network" and "viral broadcaster;" gaining the momentous approval of mobile hungry millennials and avid app connoisseurs. More specifically, those who don't have the patience to search and sort through millions of clips, and are itching for a more curated form of entertainment.
The ivvi app allows users to see, save and share videos just on the verge of virality using the first of its kind, proprietary technology. Finally, an app that puts the power back into the hands of its users, providing a platform in which they can save videos to watchlists, generate a following, and share with their friends on ivvi and other social networks.
Collison, is the sister event to Web Summit, and is taking place in Las Vegas for its second year. This event features only the most innovative start-ups in technology today that are ahead of the curve.
Taylor Klick, Founder & CEO of ivvi proves that the ivvi app will be a force to reckon with, noting, "Other than 'communication' and 'utility' functions on mobile, the most popular uses of smartphones are 'social media' and 'entertainment' with users consuming over 30 minutes of video daily. That's why we've created this platform; to give mobile users what they've been asking for." And the promise of mobile; to deliver instant gratification only begs for social and video entertainment to be coupled together seamlessly in one mobile app experience.
Download the app here. Access press kit here.
About ivvi
Founded by 3D & graphic artist Taylor Klick, ivvi is a proprietary new mobile technology that scours, sorts and filters for viral videos. The app allows users to curate personalized watchlists, as well as share videos through other social networks including Facebook and Twitter. Available only on iPhone, ivvi bots search the world to bring the best content in three categories; Live, Laugh, and Learn to the US and Canada. To view a demo of the app please visit ivviapp.com
For Press Inquiries Contact:
Erica Whyte
Communications Coordinator
erica(at)ivviapp(dot)com