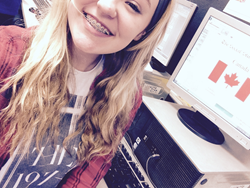 The Online Designer is free to use, and projects can be shared with each other or even their teachers
Tucson, AZ (PRWEB) May 28, 2015
With school budgets being cut across the nation, journalism clubs and school newspapers have seen a double hit on their ability to publish school newspapers. Not only have their print allowances been slashed, but the budget crunch has made it nearly impossible to purchase the needed software to design and publish their school newspaper.
However, schools and students are finding answers to their budget issues at a new kind of website.
MakeMyNewspaper, launched six years ago, offers not only a free cloud designer program and templates directly from their site, but the company also offers a new kind of low cost printing, both on newsprint and digitally, with starting prices at just $19.00.
CEO Patrick Carson explains, "The Cloud Designer was the first step in innovating the school newspaper market, because it simply bypassed the cost and need for purchasing software. And, being cloud based, it can be used anywhere, from home or school, without having to download anything. Not only does this give even more flexibility to the teacher and students, but it's also extremely easy to use.
"The next step," Carson goes on, "was to literally create a brand new and inexpensive method of printing newspapers, which our company accomplished a little over a year ago. Our Impact Newsprint is game changing, because students and schools can now print 1 or 10 or 100 or 500 color newspapers at prices that are a fraction of what they have been in the past."
These two advances have brought schools from every level to MakeMyNewspaper, from pre-schools, middle and high schools, to extremely high learning centers such as the Teacher's College at Columbia University. The company also estimates that just in the very recent past, over 50,000 students have come to the site to do homework assignments. The Online Designer is free to use, and projects can printed inexpensively or be shared with each other or even their teachers. "We find that to be just fantastic," Carson said. "And it shows that interest from our youth still exists for this thing we call a newspaper. We're just offering modern tools."
The last step was offering a digital version of a newspaper, which the company calls an "eNewspaper." The eNewspaper can be distributed through social media and email, and can be embedded in websites, and be read just like a real newspaper at a fraction of the cost.
"The eNewspaper's success was far beyond our expectations," Carson says. It allows thousands of users from all over the world to electronically publish a newspaper of their own.
"The most satisfying part of what we do," cites Carson, "isn't the fiscal success or even the creative ways people are finding to use newspapers for, it's the inherent continuation of what a newspaper has always been and how it changed the world in the past, especially school newspapers, and how it can change the world, or a neighborhood, or one single life in the future. One of the most recent newspapers we saw published was for a small organization in Afghanistan trying to educate their community. Others have come to our site from Egypt, Belgium, Australia, Israel and on and on. This kind of stuff is beyond thrilling. It makes what we do truly meaningful and substantial. Ruining the ability to produce a school newspaper is one of the most critical ways we can destroy this journalistic and creative potential in our young. MakeMyNewspaper is extremely happy to have a part in keeping the newspaper tradition alive."