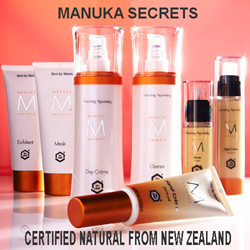 Manuka Secrets is now available in ULTA Stores nationwide and on www.ulta.com.
Auckland, New Zealand (PRWEB) April 29, 2015
Manuka Lab Ltd, the parent company of the Manuka Secrets™ line, announced today that effective immediately, the full line of Manuka Secrets™ products can be found in the United States at ULTA Beauty stores and on ULTA Beauty's e-commerce website (http://www.ulta.com).
Manuka Lab researches, develops, manufactures, and markets Manuka Secrets™ and Manuka Family™ certified natural skin care.
Headquartered in Auckland, New Zealand, Manuka Lab Limited is a fast-growing, private company focused on providing customers effective certified natural skin care that hero's New Zealand's indigenous UMF 18+ Manuka Honey.
Manuka Honey is revered globally by health professionals for skin and overall wellbeing with over two decades of scientific research at major universities worldwide.
Dr Fernanda Da Silva Tatley, a founder of Manuka Lab and the company's molecular medical microbiologist says, "We are so excited to be working with ULTA Beauty to make our products accessible worldwide through their stores and e-commerce website. Nature has grown the perfect antidote for skin aging and moisture replenishment and through science and our relationship with ULTA Beauty we are bringing it to clients across the United States."
Women across the globe are looking for healthy skin care solutions. Manuka Secrets offers a full line of powerful products, from cleanser to serum, designed to fit the needs of women 30+. The Manuka Secrets hand and cuticle crème has quickly become a cult product incorporating a one handed vacuum pump dispenser, perfect for the handbag, office or car.
The Manuka Secrets™ line is available now at ULTA Beauty stores and online. The eight product collection ranges in price from $9.99 USD to $49.99 USD.
About Manuka Lab, Limited
For millennia honey has proven to enhance health and well-being. Manuka Lab™ is rooted on the technology and uniqueness held within New Zealand's globally renowned Manuka/Tea tree bush and the UMF honey and oils produced from its nectar and leaves. Manuka Lab is a collaboration of talented and committed entities (http://www.manukalab.com) that are passionate about bringing this unique indigenous ingredient to the world. Manuka products are born by nature and proven through science.
About ULTA Beauty
ULTA Beauty is the largest beauty retailer in the United States and the premier beauty destination for cosmetics, fragrance, skin, hair care products and salon services. Since opening its first store 25 years ago, ULTA Beauty has grown to become the top national retailer providing All Things Beauty, All in One Place™. The Company offers more than 20,000 products from over 500 well-established and emerging beauty brands across all categories and price points, including ULTA Beauty's own private label. ULTA Beauty also offers a full-service salon in every store featuring hair, skin and brow services. ULTA Beauty is recognized for its commitment to personalized service, fun and inviting stores and its industry-leading ULTAmate Rewards loyalty program. As of January 31, 2015 ULTA Beauty operates 774 retail stores across 47 states and also distributes its products through its website, which includes a collection of tips, tutorials and social content. For more information, visit http://www.ulta.com.