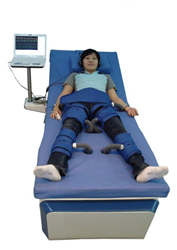 Patients report increase stamina, increase fitness level and less angina
Calgary, AB (PRWEB) April 29, 2015
External Counterpulsation, also know as ECP or EECP, has been used extensively all over the world to treat people with heart disease. There are many clinics in the United States using this treatment. Now Calgarians and Albertans do not have to fly long distances to receive this sought after treatment.
External Counterpulsation (EECP/ECP) is approved for the treatment of angina and heart failure. It is therefore, ideal for patients who have had a blocked stent or bypass surgery or people who are not amenable to a stent or bypass. Many of these patients are considered "no option" patients and Calgary cardiologists send these people home with little hope with medical therapy.
Sometimes these patients may seek out chelation therapy in Calgary. This is an alternative heart disease treatment that may benefit some patients, but now there is more evidence-based option in Calgary with External Counterpulsation Therapy.
External Counterpulsation is a safe and natural treatment where the patient relaxes on a bed. A set of inflatable cuffs is placed around the legs and pelvis. The cuffs are sequentially inflated from the bottom up, under high pressure. This causes the arteries and veins in the lower extremities to pump and forces the blood upwards toward the heart. A wave of pressure then proceeds into the heart and into the coronary arteries. The result is a massive blood flow back to the heart, a significant increase in cardiac blood flow. This speeds up the formation of collateral circulation, which your body does naturally, after 35, one hour treatments.
The Heart Fit Clinic is the only clinic in Calgary that is performing this treatment and is seeing amazing results from patients. Patients have reported increase stamina, increase fitness level, less angina, better blood sugar control and all of them feel great.
For more information please contact the Heart Fit Clinic in Calgary.