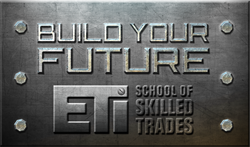 Willowbrook, Illinois (PRWEB) April 30, 2015
ETI School of Skilled Trades in Willowbrook, Illinois will be holding their second annual free Spring Welding Competition and Workshop on Saturday May 2, 2015 starting at 9AM Central.
The welding event allows high school seniors the opportunity to showcase their skills in multiple weld angles/styles. With the increase in demand for skilled workers in areas like welding and HVAC/R, trade schools like ETI are stepping up to the plate to provide quality education and experiences for their students as well as assisting them in job placement upon graduation.
Welding related prizes and a gift from the sponsors of the competition and workshop will be given to participants. The grand prize winner will receive a half scholarship to attend ETI School of Skilled Trades, and runner-ups will receive a partial scholarship to ETI School of Skilled Trades.
ALL participants will earn a $500 scholarship to ETI School of Skilled Trades.
Qualified contestants must be current high school seniors and have the ability to bring their own welding gear.
Call 1-888-572-9937 to register.
Event Location:
500 Joliet Road
Willowbrook, Illinois 60527