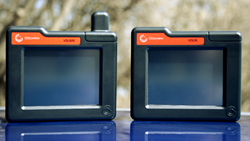 "The Ottoview devices are field proven to be the best vehicle data loggers in the transportation data acquisition industry."
(PRWEB) April 30, 2015
Transportation planners, travel modelers, and travel survey practitioners rely on accurate high quality data for travel forecasting, planning analysis, and transportation system management. The Ottoview devices are field proven to be the best vehicle data loggers in the transportation data acquisition industry. Both data loggers operate with light duty (SAEJ1979) as well as heavy duty vehicles (SAEJ1939 and SAEJ1708). Their portable design alleviates the requirement for a complex, time consuming and expensive professional installation. A single cable connects Ottoview to the vehicle's diagnostic data port and the device operates autonomously, turning on and off with the vehicle's ignition system. Ottoview operates with standard internal combustion engines as well as hybrid vehicles.
Ottoview represents one of three distinct data loggers in PERSENTECH's Otto Travel Study Solution. Ottoview collects and feeds GPS spatial temporal data, OBDII vehicle diagnostic information, and driver-entered survey information for upload to the Ottodata(TM) repository at a sample rate of 1 Hz. A subset of this data can also be transmitted over a cellular network, using the Ottoview VDL50R model, to the Ottotracker(TM) portal for real-time location tracking, vehicle-use reporting and on-screen dispatch messaging. Like its predecessor, the CVS44, the new Ottoview VDL50 models incorporate a 3.5" color TFT display with touch screen interface functionality that can be configured to present numerous vehicle metrics including operational costs, fuel economy, and CO2 emissions. The Ottoview data loggers can provide in-vehicle driver alerts when exceeding the speed limit and when approaching community safe zones or hazardous intersections (where coverage maps exist). Ottoview survey screens and in-vehicle driver alerts can also be changed remotely using the Ottotracker portal while transportation studies and travel surveys are in progress.
With no reduction in the size of the TFT display, the Ottoview VDL50 and VDL50R units are respectively 28% and 21% lighter, and 28% smaller than the prior generation Ottoview model. In addition, the new Ottoview VDL50 and VDL50R include the following enhancements:

A newly designed enclosure with large corner-radiuses designed for safety in the event of accident impact. The fully plastic enclosures also enhance the integrity and ruggedness of the device. Both models can sustain harder drops and tolerate more display abuse. The new design also optimizes the modem antenna placement improving GPS and cellular coverage and performance, and uses MicroSD and MicroSIM cards that offer better availability as standard sized SD and SIM cards are phased out.
A jack for external GPS antenna capability that provides enhanced performance in vehicles with passivated glass and for studies and surveys requiring the vehicle data loggers to be installed covertly.
100% RoHS compliance.
Professionals in the areas of Transportation Planning and Modeling, Travel Survey Automation and Transportation Research Studies interested in learning more about PERSENTECH, Ottoview and the Otto Travel Study Solution are encouraged to visit our websites persentech.com - and - ottotravelstudy.com - or - contact Frank Franczyk, President
frank@persentech.com, 1.888.647.4564 (North America) or 1.204.237.5944.
About PERSENTECH:
PERSENTECH has been actively developing GPS devices with Location-Based Services since 2004 and delivering vehicle-based and smartphone data logging solutions since 2007. PERSENTECH's Otto Travel Study Solution (OTSS) collects better data, and enables better analysis and decision making in transportation planning, using richer data from multi-modal data sources. OTSS empowers consultants and practitioners to automate the transportation study and travel survey data collection processes. It provides the capability to do better research with better outcomes using more reliable and accurate data collection and powerful data management methods.