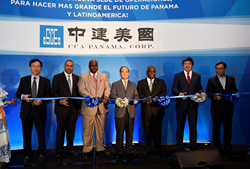 Finances, dedication, network capability, and other resources are major assets of CCA; and these assets accomplish the seemingly impossible.
Panama City, Panama (PRWEB) April 29, 2015
China Construction America, or CCA, opens its Latin American Regional Headquarters in Panama City, marking a new milestone in the company's 30-year history of offering superior construction and real estate services in the Americas. Tasked with supporting CCA's development and expansion in Latin America, CCA Panama is committed to contributing to the economic growth of Panama through participation in the nation's ambitious development initiatives.
Approximately 300 guests from the public and private sectors attended the ceremony, including Philip E. Brave Davis, Deputy Prime Minister and Minister of Works and Urban Development; Weihua Wang, Permanent Representative of China's Office of Commercial Development in Panama; Kenred Dorsett, Minister of the Environment and Housing of The Bahamas; Ning Yuan, Chairman and President of CCA and Chairman of CCA Panama; David Wang, Executive Vice President of CCA and President of CCA Panama; and James Simpson, Member of the Board of CCA, Senior Advisor to Chairman Ning Yuan and former Commissioner of Transportation for New Jersey.
Deputy Prime Minister Philip Brave Davis congratulated CCA on its expansion into Panama, one of the fastest growing economy in Latin America over the past decade. "This expansion evidences the fact that success comes only to those whose goals are so strong that obstacles act only as the investor", said Mr. Davis. He acknowledged CCA's contribution to the Bahamian economy and commended CCA for its resourcefulness, expertise and professionalism. "For The Bahamas, we are grateful for the contribution of CCA in our efforts to improve our economy through foreign direct investment, the creation of jobs, and the provision of training opportunities". As the financier, investor and builder of the Baha Mar project, CCA has helped create thousands of jobs for the Bahamian people and hundreds of millions of dollars in revenue for local businesses. "Finances, dedication, network capability, and other resources are major assets of CCA; and these assets accomplish the seemingly impossible". The company's most recent British Colonial Hilton Nassau hotel project is estimated to create 250 jobs during construction and 500 permanent jobs after completion for Bahamians, contributing $750 million to the Bahamian GDP in 20 years.
Permanent Representative Weihua Wang of China's Office of Commercial Development in Panama extended his congratulations to CCA. He was glad to see that CCA, a subsidiary of a major Chinese company, has opened its office in Panama. He believed that CCA's outstanding expertise in construction and real estate will benefit the Panamanian economy, which will help create a more vigorous business relationship between China and Panama.
CCA President Ning Yuan expressed his appreciation to the guests for their presence and support. He said, "The Panamanian people and government have a done a great job maintaining such a strong economic growth over the past ten years; their determination to continue boosting the economy and improving the people's lives is admirable. CCA is proud to be part of this remarkable endeavor and is eager to share its expertise, experience and resources with the Panamanian people. By bringing premium products and services to Panama and other Latin American countries, CCA stands poised to contribute to the region's grand development plans."
As a veteran in the transportation and infrastructure construction field, Mr. James Simpson shared his insight into the importance of building and maintaining a modern infrastructure system. "A modern infrastructure system is a critical component of an economy. It is the precondition for greater mobility of goods and people, which results in higher economic vitality and more business opportunities". He underscored CCA's impressive development and track record in the US. "Since entering into the US market, CCA has received accolades for the quality and safety of its projects from the industry. Its ceaseless pursuit of excellence underlies the core values of CCA, which are Quality Assurance and Value Creation, and underpins its vision of becoming one of the most competitive construction and real estate companies in the Americas".
CCA Panama President David Wang expressed his confidence in the positive prospect of the Panamanian economy as well as the Latin American economy as a whole. He believed that the prowess of CCA as contractor, construction manager, and investor would well serve the development goals and objectives of Panama. "Over the past 30 years, CCA has started from scratch and grown into a top player in the US market. Its emphasis on localization and commitment to giving back to the communities have enabled it to adapt to the local market very quickly. CCA will adopt the same approach in Panama to benefit the local economy and people while realizing its own ambition for the Panamanian market as well as the Latin American market at large". On behalf of CCA, Mr. Wang expressed his support of two local charities, Fundacion Valorate and Special Olympics Panama. An MOU on a social housing project was also signed at the ceremony.
President of Panama Juan Carlos Varela received Deputy Prime Minister Davis, Minister Dorsett, Mr. Ning Yuan and other CCA executives at the presidential palace before the opening ceremony. He welcomed CCA to Panama and hoped that tangible results could be achieved soon.
Since its establishment in Delaware three decades ago, CCA, the sole subsidiary of the top construction and real estate company in the world—CSCEC—has been committed to building mutually beneficial partnerships with various stakeholders in the communities where it operates. Headquartered in Jersey City, New Jersey, CCA mainly operates in New York, New Jersey, Washington DC, North Carolina, South Carolina, Louisiana, Florida, California and The Bahamas, providing a broad range of construction and real estate services such as program management, construction management, general contracting, design-build, and financing for public and private clients. Underpinned by its practical business approaches and ambitious yet prudent development strategies, CCA has become a top 40 contractor and a top 20 construction manager in the US with revenue exceeding $1.7 billion in 2014. CCA has been actively exploring new growth areas in real estate, project financing and public-private partnerships, as well as new geographical markets in other parts of the Americas.
###
If you would like more information about this topic, please call Xijing (Sharon) Zhang at +1 201 876 2788, or email zhang_xijing(at)chinaconstruction(dot)us
Ribbon cutting photo caption:
Executive Vice President of CCA and President of CCA Panama David Wang, Senior Partner Latin America at Notarc Management Group Dion Bowe, Minister of the Environment and Housing of The Bahamas Kenred Dorsett, Permanent Representative of China's Office of Commercial Development in Panama Weihua Wang, Deputy Prime Minister and Minister of Works and Urban Development Philip E. Brave Davis, Chairman and President of CCA and Chairman of CCA Panama Ning Yuan, CCA Senior Vice President Daniel Liu