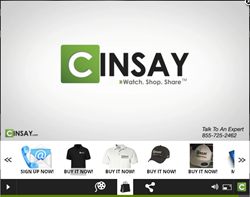 Cinsay's core technology is based on a web and mobile, shareable interactive video platform that can be used by anyone – anywhere, to market, generate leads, increase sales and leverage video unlike any other technology on the market today
Austin, TX (PRWEB) May 13, 2015
Cinsay, Inc., the world leader in social video ecommerce, has launched a new and more visual version of its corporate web site featuring expanded customer examples, detailed visuals on features, new technologies, and growing sectors of Music and Entertainment, Direct Marketing, Live Content and Video Advertising.
Cinsay's core technology is based on a web and mobile, shareable interactive video platform that can be used by anyone – anywhere, to market, generate leads, increase sales and leverage video unlike any other technology on the market today. New components to Cinsay's video include streaming unlimited LIVE content and transacting right inside any LIVE video stream.
The redesigned video player delivers a more fluid and easy way to publish content and access the analytics dashboard. It also features the addition of additional payment gateways like China's TenPay and AliPay this summer. By adding additional merchant gateways in its video platform, Cinsay now has the ability to take expanded ecommerce payments inside China's most popular social networks along with embedding and transacting on twenty-plus other social sites around the world.
Additional key elements include Cinsay's multi-patented product placement or 'hot spotting' technology which, enables any brand or, merchandising licensee, film studios, content holders and merchants to seamlessly tag images and items in the video that can be clicked on by viewers to trigger any type of interaction, including ecommerce.
Cinsay's LIVE streaming is already being utilized for retailers like QVC where a live YouTube stream is imported into the player where it's then matched with merchandise, social media and relevant offers. Now, anyone can take a favorite shopping channel along and have the ability to shop in real time, wherever they go.
The MLM and Direct Marketing portion of Cinsay's business is capturing the attention of thousands of independent distributors who are incorporating their own videos and the marketing videos from MLM companies into their own stand alone marketing systems. Distributors can post their videos on social media and even embed the player on Facebook and tumblr as well as their own sites where they can be view on web and mobile devices, anywhere in the world. Currently Cinsay has incorporated its video technology directly into Jeunesse Global one of the fastest growing direct selling companies in the world. Cinsay has launched its API's that can integrate directly into any MLM/Direct selling companies accounting and CRM/Backend. This gives any MLM/Direct selling company a global advantage.
Verner Dixon, an executive previously with IBM and Gartner, now an associate with Jeunesse Global said, "This is actually a game changer for the MLM, Direct Sales industry as far as I'm concerned. I now have the ability to promote my products using professional videos and presentations to host live training and hangouts with my current distributors to grow my business and increase my downline right on the spot! My prospects and customers can purchase my offerings before, during or after the presentation – this is awesome!"
Based on customers suggestions, focus groups and end-user feedback, the new site development emphasizes the simplicity of Cinsay's multi-patented technology and specifically how that technology plays into marketing, sales, leads and political donations – all for small to medium and enterprise-level corporations and nonprofit organizations.
"We're very proud of our video technology platform and the ways it is evolving in helping anyone to better market and sell their offerings and services anywhere in the world - and do it more affordably," said Founder and CEO, Christian Briggs.
Cinsay's client base actively serves a growing customer base of content providers ranging from movie studios, musicians, sports franchises and entertainment clients to independent small businesses, big brands and Network Marketing companies. Sales of Cinsay's platform come from various channels including Yahoo Small Business and Wix.
Recently, the company also added web business services to help merchants market and promote their online stores as well as design and host entire ecommerce sites like ShopAndretti.com, ShopRisi.com, Mario Andretti Shop site and ShopStrokersDallas.com.
Cinsay's expanded services and web redesign follow last month's relaunch of its branded apparel division, Cinsay On Demand. Both initiatives include the ability for content providers to now sell directly to consumers, eliminating the need for wholesale in the supply chain. Merchandise and apparel are produced 'on demand' as orders come in via the video, creating the ultimate 'just in time' inventory control, which then ships directly to customers.
"Cinsay On Demand meets the needs of instant, brandable merchandise for anyone in need of quality designed items without having to manage the inventory, shipping, tracking and returns. We've created the best of printable merchandise and combined it with turnkey order fulfillment along with a complete stand alone shopping site branded to the unique demands of each merchant," said Christian Briggs, Founder and CEO of Cinsay, the parent company. "Whether someone needs just one shirt or one million, our expanded facility in Dallas can accommodate any order. There's simply no other type of opportunity out there like this for businesses, schools or nonprofits."
Content to Commerce
Cinsay On Demand also fits perfectly with Cinsay's core business model, the world's leading transactional video player. Cinsay's video platform enables anyone to upload video and add merchandise, lead generation, or other 'call to actions' – all inside the socially shareable video and then post to any website or social media page like Facebook, twitter, China's RenRen or WeChat and Tencent.
The new approach enables film studios and content providers to completely eliminate wholesale pricing, costly inventory overhead, and third party distribution and instead, sell branded merchandise directly to audiences around the world.
"For our customers who combine our division's apparel and merchandise inventory along with Cinsay's video marketing and commerce platform, the opportunities to reach consumers anywhere in the world becomes an instant and huge opportunity – and all inside one easy to create and deploy platform," Briggs added.
For more information about Cinsay and how businesses and organizations are gaining more revenues and customers, call 855-725-2462 or visit http://www.Cinsay.com and speak with an expert.
About Cinsay
Cinsay has developed the world's first, multi-patented shareable, marketing and ecommerce video platform. Built to be viewer and socially interactive, Cinsay's shoppable platform is designed to drive significantly higher traffic and views for any type of business. Cinsay's syndicatable technology enables anyone to market and promote services, sell products, accept donations and political contributions all inside its multi-patented video player platform. The technology also allows for archived or live video and provides in-depth analytics on views, shares, and transactions. Additional statistics include demographics as well as consumer buying patterns. Cinsay hosts exclusive content and shopping channels for sports, music and movies aligned with partners including Andretti Autosport, Risi Competizione, Suretone Entertainment and Strokers Dallas. The company is also a software provider to SMBs via Yahoo's Commerce Central.
Forbes named Cinsay one of "America's Most Promising Companies" while eTail Conferences named Cinsay a "Rising Star in innovation" for 2012. Red Herring also selected Cinsay for the "Top 100 Companies in North America" for 2014. For more information, please visit http://www.cinsay.com or call 855-725-2462.
One or more of the following patents may protect Cinsay's software, systems, and/or services. U.S. Patent Nos.7,840,415; 7,987,098; 8,769,053; 8,782,690; 8,813,132; 8,312,486; 8,533,753; and 8,549,555.