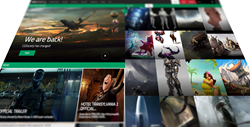 What you want, what you prefer, that's what you will get.
Los Angeles, CA (PRWEB) May 04, 2015
Today CGSociety, the leading online community for computer graphic artists, announced the launch of the new, redesigned version of its website: http://www.cgsociety.org.
Since the acquisition of CGSociety by The Art Society, LLC (TAS) in February 2015, teams in both Los Angeles, California and Adelaide, Australia, have been planning and working tirelessly towards delivering phase one of the new website.
The new site has been designed to be visually compelling, with a focus on innovative design, and it has been built around the needs and preferences of CGSociety members. Key features include a dynamic and responsive design, a more engaging user experience and enhanced search and navigation. There is also the option to have an easily customizable homepage, which empowers users to choose what they want featured; either a gallery-centric experience or an editorial-focused one.
Diego Rojas, Co-Founder of TAS and CGSociety General Manager, exclaimed: "We not only wanted to redesign the website and give it a fresh new look, we wanted to give our community choices. We are more than just a gallery, we are a community." And when probed further about this new "dual experience", Diego elaborated that "providing choices and a world of opportunities is what drives the redesigned website. The split concept on the homepage allows viewers to see more images and readers to see more news."
Ultimately, this is indeed just the beginning. "What you want, what you prefer, that's what you will get." concludes Diego. "Over the coming months, the international teams will continue to enhance the site and work towards fulfilling CGSociety's mission to inspire, educate and employ digital artists."
About CGSociety
Since 2002, CGSociety has been the digital art industry's home. They are dedicated to supporting artists at every level, by offering a range of services to connect, inform, educate, and promote, by celebrating achievement, excellence, and innovation. CGSociety has earned its position as the most respected and accessible global organization for creative digital artists.
For more information, please email info(at)cgsociety(dot)org and visit http://www.cgsociety.org.