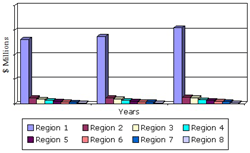 The global autism spectrum disorders (ASD) market is expected to reach $412.7 million by 2019
Wellesley, Mass. (PRWEB) April 29, 2015
BCC Research (http://www.bccresearch.com) reveals in its new report on Autism Spectrum Disorder (ASD), in 2013 the global markets were valued at approximately $346.2 million. The global therapeutics market for ASD accrued $305 million in 2013, while the global diagnostics market accrued $41.2 million. In 2014, the global ASD markets were recognized to have grown by 4.2% on a yearly basis, increasing to approximately $361 million.
ASD is a complex neurodevelopmental disorder that is characterized by deficits in social and communication skills, and by abnormal coherence to repetitive behaviors. ASD is claimed to be the fastest growing childhood disorder (13% to 15% annually), which manifests itself before the age of three. It is thought that there are more than 7.6 million people living with ASD-related disabilities, and since there is no cure or effective treatment, this population represents a vastly underserved global market.
While the underlying reasons for ASD are not well understood, the regulatory organizations are more concerned with the effectiveness and safety of the interventions than their mechanism. Due to this, drug developers rigorously investigate exhaustive molecular targets and mechanisms to discover a drug candidate without getting into complicated and mundane proof-of-mechanism studies.
"Considering that there are no other available tools to make a completely accurate diagnosis on the disorder, cytogenetic tests have become invaluable," says BCC Research analyst Ufuk Ezer. "The current technologies can enable the detection of hundreds of genetic markers for ASD in short amounts of time. This is why technologies such as chromosome microarrays (CMAs) are considered as the first-tier tools for early diagnosis of ASD and other childhood developmental disorders by authorities such as the American Academy of Pediatrics, the American College of Medical Genetics and the International Standard Cytogenomic Array Consortium." The setback for these diagnostic technologies, however, is the financial factor; microarrays and other genetic tests are very costly techniques.
Diagnostics and Therapeutics for Autism Spectrum Disorders: Global Markets elaborates on the definition, historical background, etiology and epidemiology of ASD by providing information on prevalence rates, disorder patterns, regional diagnostic criteria and underlying biological and environmental causes.
Editors and reporters who wish to speak with the analyst should contact Steven Cumming at steven.cumming(at)bccresearch(dot)com.
About BCC Research
BCC Research publishes market research reports that make organizations worldwide more profitable with intelligence that drives smart business decisions. These reports cover today's major industrial and technology sectors, including emerging markets. For more than 40 years we've helped customers identify new market opportunities with accurate and reliable data and insight, including market sizing, forecasting, industry overviews, and identification of significant trends and key market participants. We partner with analysts who are experts in specific areas of industry and technology, providing unbiased measurements and assessments of global markets. Recently selected as the world's greatest market research company, BCC Research is a unit of Eli Global, LLC. Visit our website at http://www.bccresearch.com. Contact us: (+1) 781-489-7301 (U.S. Eastern Time), or email information(at)bccresearch(dot)com.