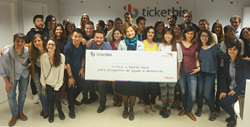 Ticketbis expands participation with World Vision to three distinct social/charitable projects
(PRWEB UK) 30 April 2015
Madrid, 30 April 2015. Is the growth of a business directly proportional to its capacity to help others? The answer is yes. Aside from doubling their revenues year after year, Ticketbis has managed to collect nearly €14,000 in donations to World Vision, the globe's largest sponsorship NGO. The quantity donated also doubled from the previous year thanks to collaboration from more than 7,000 Ticketbis users who chose to make micro-donations of €0.75 when purchasing tickets on the platform. The company promised to match the total amount donated by its users.
Since 2011, Ticketbis have repeatedly renewed their social responsibility activities by participating in various projects with the aim of benefiting communities across the different continents. "In the same way that our business has a global strategy, we also want our CSR program to have one. We are proud to collaborate in the improvement of quality of life for those in dire situations and, above all, to participate in projects that have an educational approach so that communities in need can become self-sufficient" explains Jon Uriarte, CEO and cofounder of Ticketbis.
The system of micro-donations used by Ticketbis is done through Fiiiling and due to the startup's vast and rapid growth, it has been able to expand the number of social projects done in collaboration with World Vision. According to Marisa García-Tablado, director of World Vision in Spain: "Ticketbis is a key strategic partner for us. We've relied on them and their users for the past two years to help us fight poverty and inequality affecting millions of children throughout the world."
The new project which Ticketbis has chosen to expand their CSR program is "Help Philippines" whose mission is to give aid to families that have been affected by the devastation caused by Typhoon Haiyan. The main needs which World Vision have responded to in this case have been the reconstruction of housing and improving access to basic necessities.
In addition, Ticketbis decided to continue collaborating to help those families most affected by the economic crisis in Spain. With this project, which has so far benefited over 8,000 people, World Vision aims to deliver school supplies, personal hygiene kits and household cleaning materials to those in need. Moreover, the startup has also continued their participation in the development of impoverished communities in Bolivia, another project led by World Vision in Latin America.