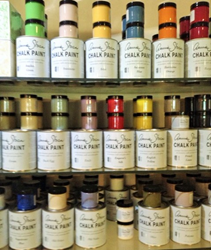 "Annie is the best of the best."
Jupiter, Florida (PRWEB) May 02, 2015
There are almost 600 Annie Sloan stockists in the Unitied States, and as of this week, Karen Williamson and Anna-Ruth T. Murphy (Art) of "The Good Stuff" in Jupiter, Fl have joined the ranks. All stockists are unique, independent shops hand-picked for their creativity and style.
"The Good Stuff" gals recently returned from the "Annie Sloan Unfolded" headquarters in New Orleans after attending a 2 day extensive, hands-on "train the trainer" workshop where they were educated on product, techniques, and company philosophy. "The Unfolded team welcomed us with their Southern hospitality. They were prepared, professional, and shared our passion for paint!" said Karen Williamson, owner of "The Good Stuff. "We thought we knew a lot about her products and techniques, but the hands-on workshop taught us so much more. We are excited to share and inspire our clients with this new knowledge." added Williamson.
The Annie Sloan trademark chalkpaint formula allows for an easy and consistent transformation without sanding or priming. While "The Good Stuff" mainly focuses on the repurposing of furniture and home goods, the paint can be used on many surfaces including floors, fabrics, metal, laminate, and kitchen/bath cabinets.
"The Good Stuff" will be offering in-store paint classes on regular basis. Anna-Ruth T Murphy (Art), co-investor and certified paint instructor has developed comprehensive, hands-on workshops for Chalkpaint classes 101 & 102. Specialized and individual classes can also be scheduled. "This is a dream come true." said Art Murphy. "I have been painting for years and have always believed Annie is the best of the best. Her pigment, consistency, and durability are far superior. I am proud, confident and excited to share my knowledge. Warning to others; it's addictive, but it's also therapeutic and a whole lot of fun."
The Good Stuff Consign & Design Shop is a unique shopping experience offering small to mid-sized vintage, re-purposed, and gently used furnishings and accessories. They also provide design services, consultations, paint instructions and home staging. They are located at 129 Center Street in Jupiter, FL. Their hours of operation are Tuesday - Friday 10:00 - 6:00 and Saturdays 10:00 - 5:00. 561-746-8004
ANNIE SLOAN developedt her own unique range of decorative paint, called CHALK PAINT®. Developed over 20 years ago, Chalk Paint® and Annie's techniques for painting and finishing do not follow the rules but allow you to work in an independent, intuitive and creative way. Colors and techniques come from Annie's initial training as a fine artist, which encouraged the use of historical colour and design. Annie's particular interest is in the 18th and early 20th Centuries. Annie's design style uses her own painterly and creative motifs, as well as calling on the classic traditions.