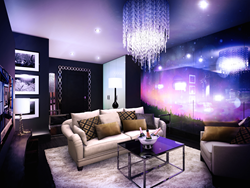 This unique pair of hotels is a perfect example of how Quadriga can provide a complete WiFi solution that offer guests of both hotels the same user experience; monitoring and maintenance synergy and future-proofing their WiFi solutions.
Theale, United Kingdom (PRWEB UK) 30 April 2015
The Arctic Light Hotel is the first contemporary, boutique hotel to open in Finnish Lapland and one of the most interesting hotel openings of 2015. City Hotel, also in the centre of Finland's most northern city Rovaniemi, is a four star hotel close to the Arctic Circle and Santa Claus Village. Both hotels required entertainment and network solutions that lived up to their contemporary, modern guests crossing a total of 150 rooms
Requirement:
Both of the hotels, owned by Mikael Gröhn, had planned to have standalone TV solutions installed. Quadriga were asked to step in and after discussing in room televisions, realised a WiFi upgrade could be beneficial for City Hotel after receiving customer feedback.
Quadriga's Solution
Quadriga decided that QConnect, a flexible internet solution that can be configured to a hotel's specific requirement, would be the best option for both the hotels and the Ruckus R500 access points with 80211ac support provide a future proof hardware solution. With seamless roaming available in all areas of the hotel, City Hotel's WiFi offering is bound to receive positive reviews, whilst Arctic Light Hotel will benefit from future proofed technology, as flawless as its decor. With Samsung Smart TVs installed across every room and free WiFi being offered via a tiered bandwidth in the Arctic Light hotel, guests will receive the full package with their attention caught from their entrance thanks to a 110" videowall in the lounge area.
Kimmo Vainio, sales manager for Finland said, "This unique pair of hotels is a perfect example of how Quadriga can provide a complete WiFi solution that offer guests of both hotels the same user experience; monitoring and maintenance synergy and future-proofing their WiFi solutions.
Hotel and guest benefits:
As well as receiving a seamless and fast internet connection, guests at the two hotels will have an easy to use experience with multiple payment options, whilst the hotel can benefit from a cost effective system that will increase a return of investment thanks to stronger reviews. The Samsung Smart TVs installed offer the guest an opportunity to access local information, a variety of content and their online apps all from the bed, creating a better than home experience.
Hotel owner Mikael said, "We are excited to have Quadriga's WiFi solution to provide our guests with a seamless and easy access to internet throughout the properties. The benefit of having a single supplier is peace of mind for the hotel and lets us to focus on our guests."
For more information, please visit http://www.quadriga.com.
==Ends==
About Quadriga
Quadriga is a leading international provider of guest technology managed services for the hospitality industry and our commitment is to maximise a customers' on-property value and guest satisfaction
Quadriga provides customers with the flexibility and reassurance that they can obtain a complete, accessible and relevant guest technology solution that meets their business revenue, guest satisfaction and operational efficiency targets, all from a single, financially robust partner. Our value proposition is to provide technology solutions which enable customers to:

Connect with your guests – and guests with the hotel and their world
Control the guest experience and your network and TV environment
Commercialise new business and revenue opportunities
This value is delivered via a 360º integrated and managed service approach to design, build and manage a complete network and technology ecosystem focussed on the needs of hospitality and guests.
Quadriga offers a single point of contact for a range of managed services covering Networks, WiFi, Hospitality TVs, Interactive TV & Mobile platforms and Financial Services. These integrate multiple hardware and software components, proprietary to Quadriga or via 'best-in-class' partners, with an unrivalled range of multimedia content solutions and expert operational and professional services.
Quadriga has more than 30 years experience serving the hospitality sector and operates in the key strategic geographies of USA, Europe, Middle East and Africa, supporting more than 300,000 guest rooms including 100,000 with HSIA. The company has unrivalled knowledge and approaching 15 years experience in managing hotel networks, Internet provision, digital IP systems and delivering IP over coax networks.
Quadriga will continue to leverage its capabilities, its partnerships and deep knowledge of the hospitality sector to create solutions that harness the latest technologies and meet ever- evolving customer business needs and guest expectations.
Press Contact
Vicky Daniels
Group Marketing Manager
Quadriga Worldwide Ltd
Telephone - +44 (0) 118 916 7181
Email - Vicky.Daniels(at)quadriga(dot)com